Life-size sand portraits of Kerala movers in Dubai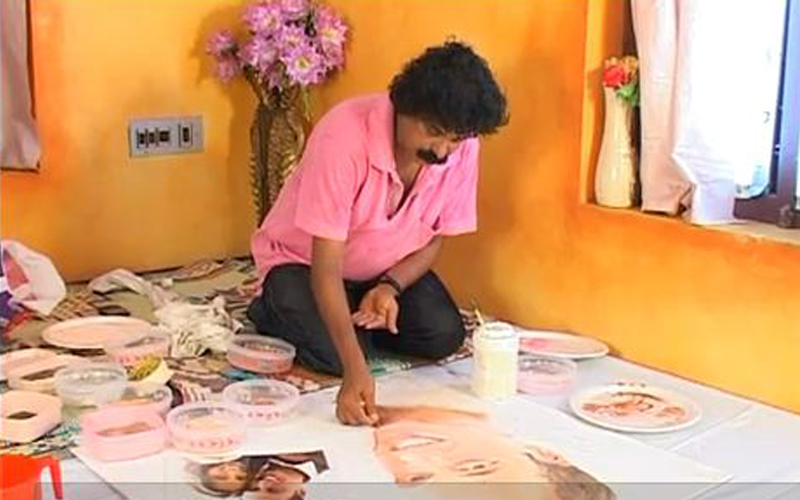 Ommen Chandy, VS Achuthananthan, Mammotty, Mohanlal, MA Yousuf Ali, Azad Mooppen et al to feature in Gems of Kerala.
An Indian artist will be creating huge sand portraits of 21 leading figures including some of the well-known NRIs that have excelled in various fields using sand as his paint and his hand as brush.
Babu Edakkunni, who has already created the biggest ever sand portrait of Mahatma Gandhi, the father of India, and other celebrities will be unveiling the event in Dubai at a programme called Gems of Kerala.
There will be six feet sand portraits of 21 distinguished personalities from Kerala, selected from the fields of arts, sports, literature, politics and other humanitarian services. The artist will also bid for a Guinness Book of World Records by claiming the largest sand portrait exhibition in the world.
The event is organized by Reflections, a new art school in Dubai, to train youngsters in the craft of portrait making and other art forms.
Reflections is a Design and Art Consultants working closely with the restaurant chain, Padippura.
The artist will create sand portraits of prominent NRI businessmen like M A Yousuf Ali (EMKE Group/Lulu), Dr Azad Mooppen (DM Healthcare), CK Menon and PNC Menon, among others.
Kerala State Chief Minister Oommen Chandy, the leader of Opposition and veteran communist leader, V S Achuthananthan, superstars of Malayalam film industry, Mohanlal and Mammotty, play back singer, K J Yesudas, writer and author, MT Vasudevan Nair and from sports P T Usha, an Olympian from Kerala will find a place at the venue.
"I will be using a mix of sand compositions collected from the residential premises of these unique personalities. The inaugural event, which was held at Padipura Restaurant in Abjar Grand Hotel on February 14 saw live demonstration of the sand statue making. The first live portrait made was of Mohanlal.
"Sand has been collected from the residential premises of state chief minister, Oommen Chandy, superstar Mohanlal in Trivandrum and it will be used for the sand portrait formation in Dubai," Babu told Emirates 24|7.
Babu Edakkunni, earlier a Non Resident Keralite in Doha, Qatar, has to his credit various achievements like creating the world's tallest sand painting, with 31 feet high portrait of Mahatma Gandhi in front of India Gate in New Delhi. He has also created the sand portraits of various world leaders and gifted them to these respective personalities. Other GEMS of Kerala to be gifted with the sand portraits includes India's Defence Minister AK Antony, Minister of Overseas Indian Affairs, Vayalar Ravi, Kerala Finance Minister K M Mani, Communist Part of India (Marxist) Secretary Pinarayi Vijayan, veteran poet and author ONV Kurup, Kochi Metro chief, E Sreedharan, P K Warrier, E T Narayana Moose, and Kalamandalam Gopi. In 2004, he had created a sand portrait of former Indian President, APJ Abdul Kalam and handed it over to him at the Rashtrapathi Bhavan. Similarly he has made sand portraits of several world leaders like Barak Obama.
MUST READ:
Follow Emirates 24|7 on Google News.