8-month pregnant model's tiny belly causes huge uproar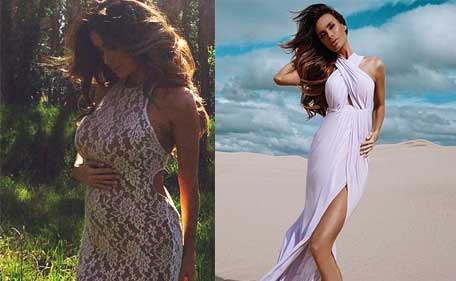 Sarah Stage is a gorgeous 30-year-old lingerie model who happens to be eight-and-a-half months pregnant.
You'd never guess that this super fit is 8 1/2 months pregnant if you see her Instagram posts where she displays her tiny baby bump - her pregnancy six packs.
She recently posted a picture captioned, "Eek officially 81/2 months... And he's now 5lbs, #34weeks."
8 1/2 months
This has stirred up a debate on the web, comments exploded online over the past few days - How is this body possible?, people wondered. Is it safe? Healthy?
Stage has become an internet sensation over the course of her pregnancy, posting a slew of photos to Instagram chronicling her development.
Her fan base has grown exponentially since she started documenting the transformation of her body.
8 months
Her 1.3 million Instagram fans are vocally divided on whether she looks fit or famished.
But how did she manage to have no baby bump at all even after 81/2 months? The model has maintained a strict exercise regime and practices healthy diet.
32 weeks
Stage, who is due in April, told Entertainment Tonight (ET) that she has only gained about 20 pounds so far in her pregnancy.
Women should gain between 20 and 40 pounds throughout their pregnancy, according to the American College of Obstetricians and Gynecologists.
7 months
She has a trainer, and was working out a lot harder before the pregnancy.
But you are probably wondering about the health of the baby. Stage told ET that her doctor informed the baby is healthy and she should not worry about her tiny tummy affecting the fetus.
Also see: Movie Listings in UAE
Follow Emirates 24|7 on Google News.