Airport insiders spill secrets: No point locking your suitcases...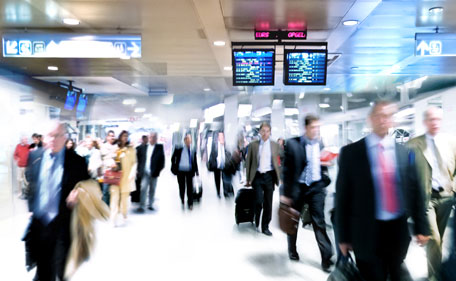 Invest in quality luggage, bring your own headphones, and don't bother locking your suitcase.
Frequent fliers may already have some travel tricks up their sleeve but there are some lesser-known insider tips that will help you make your travel pleasant (maybe).
But here are some more tips offered by anonymous airline and airport employees in a recent discussion thread on Reddit.
Locking your suitcases is useless
This is specifically for suitcases with zipper.
According to user royalsiblings, "You can pop a zipper with a pen and drag the locked zipper pulls around the bag to close them back up. I've done this many times to identify bags that are tag less and locked. Exactly like this."
Hotel in case of weather cancellations - No
Users PM_ME_YOUR_EMPENNAGE who is a pilot in the US wrote, "Speaking of cancellations, usually the only time you get a hotel (per the contracts) is if it is blatantly the airlines fault. You will almost never get put in a hotel due to cancellations due to weather. That's beyond the airline's control."
He continued, "Speaking of weather, don't get ***** if we're delayed even though the weather at your departure and destination airports is perfectly fine. Your flight could very well be traversing thousands of miles and, lots of bad weather could be happening in between. Navigating around those can be tricky. It's pretty insulting when this is the case and passengers come up to us demanding we leave since the weather is 'fine'. If ya'll want to fly through a supercell thunderstorm that's spitting out hail and tornadoes, by all means, go steal the plane and do it yourself, see how that works out."
Careful about headphones
"I used to work for warehouse that supplied a certain airline with items. The headsets that are given to you are not new, despite being wrapped up. They are taken off the flight, 'cleaned', and then packaged again," said Reddit user ichigo29.
Use hard case suitcase
"Invest in quality luggage. You are the only one that handles your bag with care. Your bag is going to take a beating in the system," says paradoxofchoice.
Another Redditor, Touchmy**tring gave a very vital tip: Use a hard case suitcase.
The person went on to say, "I see employee chuck bags around all the time. Most of the time it's not on purpose it's just we handle so many bags it's impossible to be careful with everyone. If it isn't hard case your things can be easily damaged. Also avoid fragile stickers because a lot of ******** will target the bag and chuck it on purpose.
No privacy
If you're thinking there's privacy in an airplane bathroom, think again. Flight attendants say you are able to unlock airplane lavatories from the outside.
There is usually a lock mechanism concealed behind the no smoking tag on the bathroom door. Lift flap, slide bolt, and you're in. Flight attendants need the ability to open the door in case a passenger has a medical emergency in the bathroom.
Put your pet's name on the carrier
"If you checked your dog there's about a 30 percent chance it's terrified before it even gets on the plane, who knows how scared it gets during thhe actual flight. Bag room agents will usually try to comfort a scared animal, but all we can really do is talk to it, so if you write your pet's name on their carrier it usually helps a lot," said Redditor RabbitMix
Old flight tags
Wonder how you lost your bag? Well, it's not always airlines' fault.
"Not a secret, just common sense; the reason some bags miss their flight or get misrouted is because passengers don't remove old tags. It confuses handlers as well as the conveyor belt scanners. I see it happen all the time," said Redditor aurelius.
Also RabbitMix pointed out, "You checked your bag really close to departure time and it just didn't make it through the belt system in time." He continued, "You checked your bag really early (like 5+ hours) and since there wasn't room for its flight in the bag room yet it went in a corner so people wouldn't keep tripping over it and was forgotten about."
Be nice to airline workers
"Be nice to the ticket agent and they will pretty much always let you get away with overweight bags. If you were funny, I'd even not charge you for bags," said WorseToWorser.
"The nicer you are to us, the more we can do for you. Ran out of beef? Ask politely and we will get you a fillet mignon from first class. Your neighbour is noisy? Tell us nicely and we might be able to get you a better seat," said flight attendant and Redditor ihatcoe
Skip the coffee
"The coffee is absolutely disgusting because no one washes the container that goes out every morning. The station agents who get paid way too little don't give a shit about cleaning it. I certainly didn't when I worked for AA. Also, because we weren't given the proper supplies to clean it. We pretty much just rinsed it out and dumped coffee into it," said WorseToWorser.
Disclaimer: Scenarios/procedures may not be applicable to all airlines.
Follow Emirates 24|7 on Google News.