Al Ain's vibrant cultural scene features in year-long programme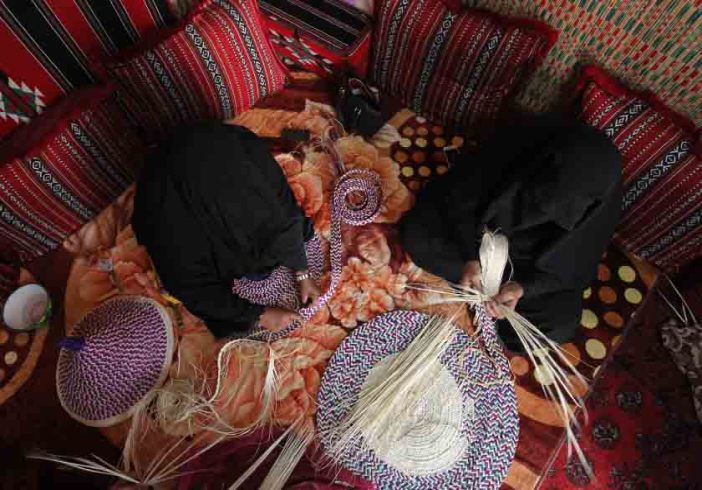 Abu Dhabi Tourism and Culture Authority, TCA Abu Dhabi, has announced an annual programme of cultural events for Al Ain to run in 2017, providing a culturally enriched experience for visitors and residents.
Al Ain is one of the world's oldest continually inhabited cities, which fuses the spirit of the past with a lively and contemporary vision for the future. The extensive programme of events highlights Al Ain as the cultural heartland of the emirate and the home to the UAE's only UNESCO World Heritage site.
The programme has been curated to support the UNESCO theme, 'Protecting our Heritage and Fostering Creativity'. The programme will provide a variety of platforms to encounter the emirate's cherished past, while being immersed in today's urban landscapes through multi-sensory experiences.
Mohamed Khalifa Al Mubarak, Chairman of TCA Abu Dhabi, said, "Today, Al Ain celebrates a vibrant cultural scene, bridging a rich history with diverse forms of contemporary practices, preserving intangible heritage gems. Al Ain is the only city in the UAE which has attained UNESCO World Heritage status and has played a vitally important role in the development of the country. The engaging series of activities planned will translate the multiple layers of the city for residents and visitors to explore, understand and enjoy."
Starting from Thursday, 26th January, and running on weekends and throughout the year, community engagement programmes, exhibitions, concerts and festivals will bring vibrancy to the historic sites of Al Ain.
Al Ain Oasis will host a diverse range of programmes, including a seasonal farmer's market, hands-on arts and handicraft workshops set amidst the palm trees, storytelling, outdoor film shows and a year-round photography programme. The oasis will also offer visitors a chance to view traditional Emirati performances in the Plaza area. Oasis activities will run from January to April before returning again in October, November and December.
Taking audiences back in time to explore the hidden treasures of Al Ain, 'Travels Through Our Traditions' will serve as a bridge between cultures, where groups are invited to spend time in Emirati homes and farms to discover and discuss different ways of life, and experience the authentic Emirati culture.
Creating a picture of Al Ain's past communities, 'My Old House' Bus Tours will visit old homes, oases, historical and cultural sites of Al Ain, in the company of archaeologists and conservators from TCA Abu Dhabi.
A seasonal outdoor programme at Al Ain Palace Museum, 'My Heritage, My Responsibility', will feature different elements of the intangible heritage of the UAE, such as traditional medicine, local dialects and etymology, adornments and cuisine.
The Multaqa Zayed National Museum annual discussions explore topics that weave together the cultural tapestry of the UAE, charting the Zayed National Museum's development. Multaqa talks will be held at Al Jahili Fort and Qasr Al Muwaiji.
Qasr Al Muwaiji will celebrate the nation's poets and writers in collaboration with the Academy of Poetry. Each month, a rich performing arts programme will be presented in the palace courtyard, and will include poetry and literary readings on national history.
Audiences in Al Ain will be enthralled by several world-class musical performances throughout the year. Qasr Al Muwaiji will host two concerts under the titles, 'Emirati Melodies', that highlights the musical heritage of Al Ain region, and 'UAE Voices', a choral singing group performance inspired by the poems of the late Sheikh Zayed bin Sultan Al Nahyan.
In May, Abu Dhabi Classics in Al Ain presents the Orchestre National du Capitole de Toulouse at the UAE University, with other performances to be announced later in the year. In the 'Memories of the Emirati Song' performances, young Emirati performers will play familiar melodies from the 50s, 60s and 70s, while singing the words of original Emirati poetry that pay tribute to their forefathers in a series of unique concerts at Al Jahili Fort.
Al Jahili Fort will also host 'Bartabas: An Equestrian Performance', inspired by equestrian arts and traditions, and bringing horsemen and horses from the Versailles Academy of Equestrian Arts. The performance forms part of the Emirati-French Cultural Programme which was created to celebrate the opening of Louvre Abu Dhabi.
Several exhibitions and festivals will be showcased in Al Ain this year and will celebrate the history of the UAE, and present Emirati contemporary visual arts and culture. Al Jahili Fort will organise two collaborative exhibitions: the 'Trucial Scouts' exhibition will host a collection that pertains to the Trucial Scouts, which originated from the fort, and later in the year, 'Numismatics of the UAE' will display a collection of coins and currency that demonstrates how Al Ain was at the crossroads of trade.
Al Qattara Arts Centre will host two contemporary exhibitions featuring the works of Emirati artists from across the UAE. A collective community exhibition of Mixed Media Arts, titled 'Collage', aims to highlight the use of mixed media as a medium, and a Comic Art exhibition invites artists to exhibit their illustrations, animations and pop art.
In December, the Abu Dhabi Food Festival, the annual celebration of the emirate's culinary excellence, is also set to make a return to various sites in Al Ain.
The fourth edition of the Traditional Handicrafts Festival will also return in November, providing visitors with a taste of Emirati heritage in one of the most prominent cultural locations in the city, Souq Al Qattara. The festival provides an opportunity to explore some traditional techniques that were used in making fabrics and textiles.
For its 9th edition, Abu Dhabi Art will present 'Interventions', a series of on-site art installations, displaying contemporary works that interact with the surrounding historical architecture of Al Ain and its community.
TCA Abu Dhabi's programmes, events and exhibitions will be accompanied by an array of art and education workshops for families, school groups and art enthusiasts of all ages.
Visitors to Al Ain museums and historic sites can also join guided tours of the venues with local experts and educators. A robust photography programme and series of master classes will be organised throughout the year in Al Ain and will be held at many of the picturesque venues. The first of these will focus on the theme of nature, where participants will take guided photo-walks in Al Ain Oasis and reflect on the life in the Oasis through time-lapse photography and short-film making workshops. The workshops will then conclude with a group photography exhibition in Al Ain Oasis.
Further details and a full programme of events and timings can be found on the official website, visitalain[dot]com.
Follow Emirates 24|7 on Google News.