Bearded Bride: Harnaam Kaur may change our concept of beauty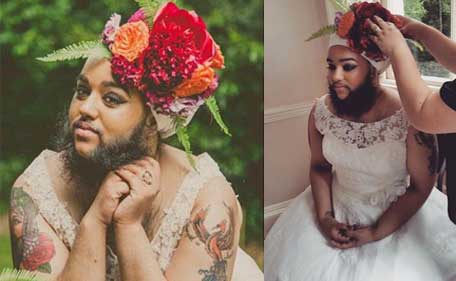 Do you know who Harnaam Kaur is?
A British woman of Indian origin, Kaur has been growing a beard since the age of 16 after being diagnosed with polycystic ovary syndrome, a condition which causes excess hair growth.
(Instagram/harnaamkaur)
She was just 11 years old when a beard started to appear on her face and the hair quickly spread to her chest and arms.
She tried everything possible to remove her hair, but this greatly damaged her skin.
(Instagram/harnaamkaur)
She had to tackle death threats, bullies and suffered from depression over her appearance, which led her to considered suicide.
"I told myself, 'The energy you are putting into ending your life, put all that energy into turning your life around and doing something better,'" she told Rock N Roll Bride.
(Instagram/harnaamkaur)
Harnaam has since embraced her identity and accepted her facial hair as part of who she is.
Now Kaur is changing the way society perceives beauty, changing what it means to be beautiful.
(Instagram/harnaamkaur)
She calls herself 'The Bearded Dame' on Instagram and on her own arm ink.
This confident, smart and beautiful lady is making waves across social media.
British photographer Louisa Coulthurst was impressed with Kaur's attitude.
(Instagram/harnaamkaur)
Coutlhurst runs the site Urban Bridesmaid, and convinced Kaur to model in a new feature on the site.
She recently participated in a bridal photo shoot featuring her beard to show that there is no one standard definition of beauty.
(Instagram/harnaamkaur)
The results are pretty stunning.
Kaur wants to remind people not to be too hard on themselves. "We are all imperfectly perfect," she says.
(Instagram)
Follow Emirates 24|7 on Google News.