Dead is beautiful: Victoria Beckham's fashion shoot is creepy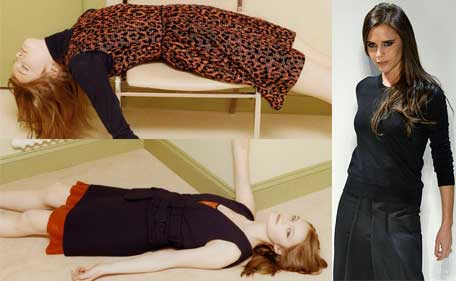 Looks like Victoria Beckham is in a 'deadly' mood.
The Victoria, Victoria Beckham catalogue, which features fashions from the 2015 autumn/winter season, has been unveiled, and while the styles are undoubtedly stunning, the images are garnering attention for a very different reason.
Getty
The Spice Girl turned designer has given the OK for one of the most bizarre and eerie photos for her new collection, that we've seen.
But it's not horror, but more of a subtle hint at death that we can see in the pictures.
In new pictures a model poses in a bare room lying prone on the floor with her eyes closed, while in another she lies as though unconscious on a chair with her head falling back behind her.
In another shot, that looks like it wouldn't exactly out of place in an Exorcist-style shoot, the model lets her hair cascade down as she leans back staring at the ceiling while on her knees in front of an old TV set as the tulips continue to come through the door.
Shot by photographer Colin Dodgson, the photographs are said to draw upon the controversial 'heroin chic' trend, which catapulted supermodel Kate Moss to stardom in the '90s.
Also see: Movie Listings in UAE
Follow Emirates 24|7 on Google News.