Drop dead gorgeous: fashion design for deceased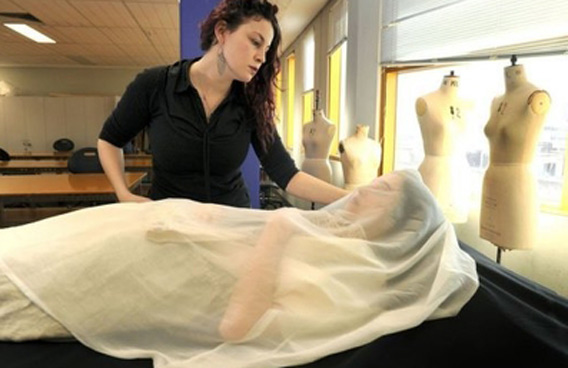 It was when fashion designer Pia Interlandi was preparing her beloved grandfather for his funeral, complete in his best suit and leather shoes, that she realised her calling was in death wear.
"Doing up his leather shoes...I was just like 'where is he going to be walking?' Really. He doesn't need shoes," the quietly-spoken, black-clad 26-year-old said.
The experience helped prompt Interlandi to create her "shroud" clothing, hemp and silk garments designed to wrap the body and head, which she hopes can provide personalised and sympathetic coverings for the dead.
"People think that when I say I am a death wear designer I make fancy suits and people go 'Oh, I want to be buried in a gold suit'. But that's not actually the type of design that I do," she told AFP.
"It's about what are the considerations and constraints in designing a garment that is for the ground.
"The environmental considerations are huge - that we don't want to be polluting the earth with plastics - but there is a psychological protection that we, as the living burying the dead, need.
"And that's covering the body but also making sure the garment is beautiful and matches the person that is getting buried."
Interlandi, who is also a funeral celebrant, says she took a couple of years to find her feet in fashion, a career path she chose after brief work experience in occupational therapy introduced her to different kinds of moulding fabrics, such as the plastics used to cover the skin of burns victims.
She made her high-school formal dress out of this plastic, an unusual step similar to her decision several years later as a design student at Melbourne's RMIT University to use animal organs in her work.
"I actually went to a butcher and got a whole lot of organs and cut them up and photographed them," she explains.
Her interest in death as a transformation saw her begin to work with dissolvable fibres which look sturdy but melt away as the body sweats.
While the garments were not practical wear, they helped her develop ideas for creating a death garment that decomposes along with the body, she said in Sydney where she was a speaker at the 'Death Down Under' conference.
The fact that most Australians are buried in their "Sunday best", a suit for men and a twin-set suit for women sometimes accessorised with slippers, sat uneasily with her, she said.
"The idea that you would be buried with a garment made of polyester that would outlast your own decomposition, so that you would end up as a skeleton in this weird polyester nightie or something seems a bit contradictory," she said.
Interlandi has gone to some lengths to research the materials for her shroud-like garments, burying 21 pigs wearing her designs to test the durability of the fabrics.
She unearthed the pigs gradually over a year and found that the coverings gradually decayed along with the animal, which was chosen for its anatomical similarities to the human body.
"Within a year my garments were completely gone. By the time we dug up the last pig there was just embroidery, bones and roots," she said.
The designer, who is a vegetarian, said she did not use the pigs lightly.
"If I could have used humans who had been donated I would have but in Australia donated cadavers only go to medical research," she said.
She now wants to exhibit the remains of the shrouds, though she's finding it difficult to get approval for the display which would be shown in refrigerated containers so there would be no odour.
"I'm having trouble because of the perceived disgust," Interlandi admits. "But the garments in themselves are actually quite beautiful. The staining that has occurred on the body is interesting."
As funerals increasingly move away from set church procedures to personalised events, reflecting the dead person's life in anecdote, photographs and music, the habit of dressing the deceased in a suit may also change.
Embroidering someone's favourite poem, or a song lyric, or their name, or drawing a family tree on the death garment are some ideas favoured by Interlandi who hopes to launch her collection late in 2012.
Sheila Harper, the 35-year-old sociologist who organised 'Death Down Under', which covered everything from Facebook memorials to organ donation, said funerals were becoming increasingly individualised.
Harper, who has researched how mourners interact with dead bodies by spending days sitting in funeral homes, said her work showed many people were eager to discuss death.
"Given the opportunity, not everybody, but a lot of people are more than willing to discuss these sorts of things," she said.
In an age where people are living longer and can go a long time without attending a funeral, Interlandi sees her work as one way to initiate a conversation about death.
"It's just one way to crack open that space we don't often talk about."
Follow Emirates 24|7 on Google News.