Dubai Culture and Emirates Airline Festival of Literature bring poetry to the desert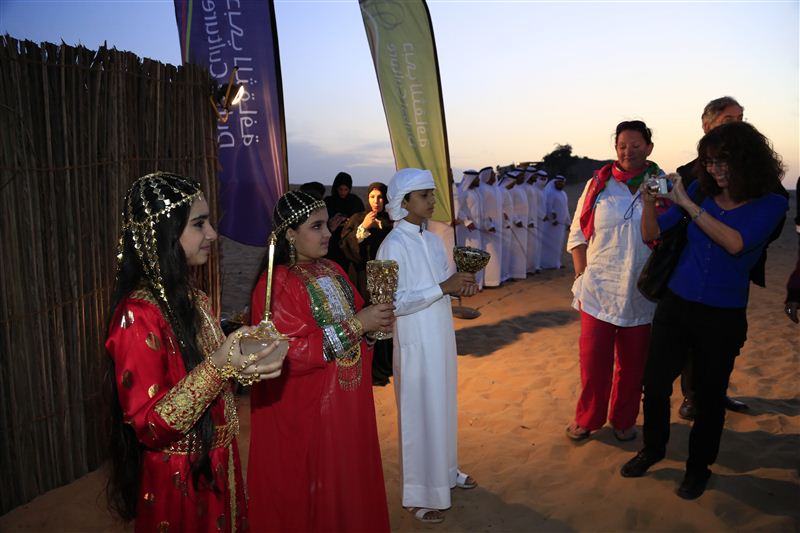 Dubai Culture & Arts Authority (Dubai Culture), the Emirate's dedicated entity for culture, arts and heritage, is joining forces with the Emirates Airline Festival of Literature 2017 to present the much-anticipated fifth edition of 'Desert Stanzas.' Presenting a magical celebration of poetry in an atmospheric desert setting, the event is set to take place on Thursday 9th March from 6pm to 11pm at the Al Maha Desert Resort in the Dubai Desert Conservation Reserve.
Desert Stanzas 2017 will showcase live recitations of verse amid desert dunes under a starlit sky by Adnan Alaoda, Kei Miller, Michael Cooperson, Zainab Ibrahim Al Blooshi and Zeina Hashem Beck, highlighting the beauty of the written and spoken word against a backdrop of sweeping sand dunes and star-filled skies. Alongside the talented international poets, the event will also capture the warmth of Emirati hospitality and heritage, with an Emirati feast to be enjoyed on traditional cushions around a flickering campfire.
Saeed Al Nabouda, Acting Director General of Dubai Culture & Arts Authority, commented: "The desert will forever remain a resonant symbol of Emirati heritage and culture, which was born among the sand dunes. It is an ideal setting in which to celebrate the power of poetry, and every year Desert Stanzas offers a truly immersive, captivating and inspiring event for guests. Bringing poets together from across the world, the event strengthens Dubai's flourishing literary scene and will also take place during the National Month of Reading in March 2017, highlighting Dubai Culture's dedication to instilling a love and appreciation of literature and reading in the UAE. The Emirates Airline Festival of Literature and its activities also complement the citywide range of cultural events that will take place during the fourth edition of Dubai Art Season – the Dubai Culture umbrella event that enriches the city's cultural calendar."
While enjoying the authentic surroundings, guests will be treated to compelling recitations from Adnan Alaoda, a Syrian poet and author of the acclaimed Sakran Al Majanine poetry collection; Zainab Ibrahim Al Blooshi, a young Emirati poet with an empathetic eye for social issues; Michael Cooperson, Professor of Arabic at UCLA and expert translator; Zeina Hashem Beck, a multi award-winning Lebanese poet and author; and Kei Miller, an award-winning Jamaican poet and novelist who was named one of '20 Next Generation Poets' by the Poetry Book Society in 2014.
Isobel Abulhoul, OBE, CEO and Trustee of the Emirates Literature Foundation and Director of the Emirates Airline Festival of Literature said, 'Desert Stanzas has become a Festival highlight everyone looks forward to. The atmosphere, the setting, and of course the enchanting poetry of global poets make it an unforgettable evening befitting the traditional hospitality of the UAE. We would like to thank Dubai Culture & Arts Authority for their continued support of the Festival and this event.'
Desert Stanzas demonstrates Dubai Culture's support of the National Strategy for Reading 2016-2026, and is among the Authority's many efforts to establish a reading culture in the UAE and promote a love of literature at every turn.
Follow Emirates 24|7 on Google News.