Dubai Food Festival: Mouth-watering line-up of events, activities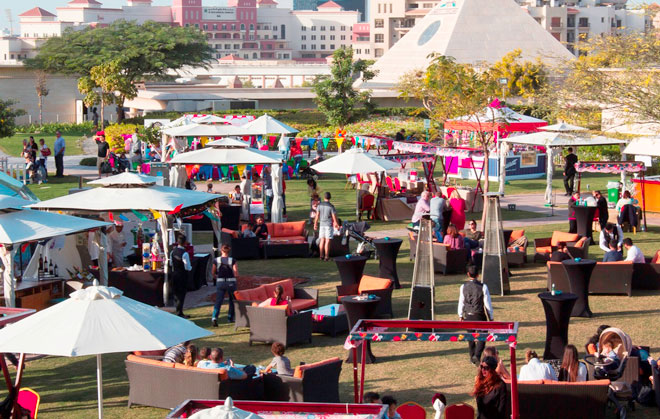 As the countdown begins for the third edition of Dubai Food Festival, the organisers have unveiled the full 17-day line-up of events, activities, gourmet superstars and promotions across the city, starting from February 25.
The Festival will feature a mouth-watering line-up of events and activities, and engage more than 1000 restaurants and 30 celebrity chefs showcasing the diversity, creativity and multicultural nature of Dubai's culinary offering.
Hosted under the new 'Celebrate Taste' theme, the 2016 edition will bring back favourites such as the Etisalat Beach Canteen, the official must-visit hub, the Masterclass Series presented by Al Islami and the popular Taste of Dubai, as well as exciting new events such as Dubai Restaurant Week, Dine With The Stars and Eat The World DXB.
'Celebrate Taste'
Etisalat Beach Canteen, Kite Beach (Feb 25 – Mar 12) Families, foodies, fitness fanatics and fashionistas are in for a treat when the revamped Etisalat Beach Canteen returns as the Festival's free to attend, go-to destination that will serve as the Festival's official hub and the main ticket booking platform of DFF 2016.
Alongside 15 delicious home-grown restaurant concepts and celebrity chef appearances, visitors will enjoy all-new features such as fitness classes, open-mic nights, storytelling by the sea, a farmer's market and fashion market, as well as local bands, DJs, children's activities, beach cinema and beach sports.
For information on the schedule and details on how to register for or buy tickets for events, visit www.dubaifoodfestival.com.
Dubai Restaurant Week (Feb 25 – Mar 5)
The inaugural Dubai Restaurant Week will see 30 of the city's fine dining restaurants offer a three-course set menu at the exceptional price of Dh189 per person.
Residents, foodies and visitors are encouraged to book early to avoid missing out on this experience via the official booking partner Round Menu at www.roundmenu.com.
Participating restaurants include: Alta Badia, Ashiana by Vineet, Atelier M, Boca, Bread Street Kitchen by Gordon Ramsay, Café Belge, Fogueira, Fume, Garden, Hoi An, Junoon, JW's Steakhouse, Kiku, Mint Leaf of London, Okku, Pai Thai, Positano, Rang Mahal by Atul Kochhar, Rivington Grill, Sea Fu, Seven Sands, Social By Heinz Beck, The Croft, The Hide, The Ivy, The Rib Room, Thiptara, Vivaldi by Alfredo Russo, Yuan and Zheng He's.
Dine With The Stars (Feb 25 & 26)
'Dine With The Stars' dinner events offer guests an opportunity to dine with celebrity chefs and enjoy a menu crafted especially for the occasion.
On Thursday February 25, Chef Manal Al Alem, will serve up a Middle Eastern themed evening.
Then on Friday 26 foodies will enjoy a five-course meal cooked by five elite celebrity chefs George Calombaris, Gary Mehigan, Manu Feildel, Matt Moran and Shannon Bennett.
For further information and to reserve your place at this once-in-a-lifetime event visit www.dubaifoodfestival.com
Dubai Long Table (Feb 26)
Grab a rare opportunity to enjoy one of the longest dining experiences at the first-ever Long Table set up along Mohammed Bin Rashid Boulevard in Downtown Dubai.
The event invites 1,000 guests to choose from six specially created three-course menus from the award-winning chefs of The Address Hotels + Resorts, and Vida Hotels and Resorts.
The event will run from 12.30 to 4pm and is priced at Dh160 per adult, Dh90 per child (6-12 years) and complimentary for those below age six. For more information and seat reservations, visit www.dubaifoodfestival.com.
Masterclass Series (Feb 26 – Mar 11)
Festival will offer Masterclasses with international and local chefs at Dubai's School of Culinary and Finishing Arts (Scafa).
The Masterclass series by Al Islami kicks off with George Calombaris, Gary Mehigan, Manu Feildel, Matt Moran, Manal Al Alem and Shannon Bennett on February 26 and 27, as well as MasterChef India winner Nikita Gandhi and MasterChef New Zealand winner Tim Read from March 2-5.
Local Greats Masterclass Series
Local Greats Masterclass Series presented by Al Islami will see celebrated chefs from Dubai restaurants including Coya, TRESIND, The Sum Of Us and Jean-Georges unveil their top tricks and tips from March 8-11.
For registration detail visit https://dubai.platinumlist.net/event/33563/dubai-food-festival---master-classes
Restaurant Masterclasses
Polish up your cooking skills by opting for the Restaurant Masterclasses including Rivington Grill - Beef Wellington Masterclass (Feb 29 & Mar 1); Taste of Italy - An Evening with Chef Heinz Beck (Mar 1); Al Maz by Momo - 3 course meal cooking class: Mar 9 and Cocoville - Chocolate making class (Mar 9)
Fatafeat Kitchen, The Dubai Mall (Feb 26 and 27)
The first and only Arab TV channel in the Middle East that is dedicated to food will host its second annual Fatafeat Kitchen, a free-to-attend event that will offer viewers a unique chance to meet their favourite faces from Fatafeat and witness live cooking demonstrations.
The event will feature 9 famous chefs and personalities - Arda Turkmen, Lidia Bastianich, Daad Abu Jaber. Layla Fathalla, Mohammed Orfali, Sadiqa Ismail, Salma Sulaiman, Tarek Ibrahim and Wafaa Al Kandari.
Fatafeat Kitchen Event 2016 will include live cooking demonstrations, Q&A panels, tastings, and opportunities to meet the chefs and participate in competitions.
Eat the World DXB, Burj Park (Feb 25 – 27)
Eat the World DXB promises an exciting food and music event where high-quality, authentic food is the star of the show.
Bringing 15 international street food traders, including food trucks from as far reaching as London, as well as some local greats, the event offers foodie fun including a curated market, children's activities and chef demo theatre with celebrities including Andy Bates, John Quilter, Eric Lanlard and Suzanne Husseini.
The Big Grill, Emirates Golf Club (March 4-5)
A celebration of everything BBQ complimented by great music and family entertainment in a grand festive setting.
The Big Grill is a food and music event dedicated to the mighty grill and for the whole family with restaurants from across the city participating to serve their BBQ delicacies, entertainment for kids and workshops for enthusiasts.
Kids Dine Free (February 27)
Kids Dine Free promotion invites families to enjoy a free three-course menu for children under 12 at 50 accompanied by a paying adult.
With an array of entertainment offerings in partnership with ADIB at each restaurant, this is the opportunity to enjoy a meal out with the family. For the full list of participating restaurants visit www.dubaifoodfestival.com.
Street Nights, Bay Avenue in Business Bay (March 4 – 5)
The popular free-to-attend street culture event is back at a new venue in Dubai. Bay Avenue in Business Bay will be overrun with activities and features for the entire family including food trucks, live street art, live performances from home-grown musical talent and a Night Bazaar. For more information, visit https://www.streetnights.ae
Taste of Dubai, Media City Amphitheatre (March 10 – 12)
Taste of Dubai returns as one of the biggest events of Dubai Food Festival, with a mouthwatering line-up of celebrity chefs, fine-dining restaurants and brand new features for foodies, families and friends.
Now in its ninth edition, the popular event has confirmed celebrity chefs Nathan Outlaw, Tom Aikens, Alfred Prasad, Atul Kochhar, Jun Tanaka, Tim Anderson, Luke Thomas, Alfredo Russo and the dynamic duo of Reza Mahammad and Jenny Morris. Tickets are available from www.tasteofdubaifestival.com
Signature Events (Feb 25 – Mar 12)
Dubai Food Festival is teaming up with some of the city restaurants to showcase the outstanding food scene in Dubai.
The Festival's Signature Events programme includes restaurant-led experiences at some of the popular spots in the emirate.
With events ranging from family days out such as The Great British Garden Party at Reform Social, to evenings for the discerning foodies such as the Full Moon Dinner at Pierchic, there is something for everyone. For the full calendar, visit www.dubaifoodfestival.com
Signature Tastes (Feb 25 – March 12)
During Dubai Food Festival, participating restaurants throughout the city will offer a 'taste of their best' with limited edition signature dishes or menus.
Order a Signature Taste from a participating restaurant and enter the draw to win incredible pre-loaded ADIB cards with an overall value of Dh250,000.
This is an opportunity for residents to try out new eateries or a new menu item from their favourite restaurant. Visit www.dubaifoodfestival.com for more information.
Hidden Gems; Citywide (February 25 - March 12)
Dubai's food scene has its share of mind-bending gastronomic concepts and celebrity chef-led restaurants.
And with over 200 nationalities living (and cooking) in Dubai, there are new tastes to explore as the city is filled with hundreds of hidden gems.
To bring them to the limelight, Dubai Food Festival 2016 has launched a new campaign encouraging GCC and UAE residents and visitors to nominate their unsung heroes (Dubai's 20 best hidden culinary gems) at www.dubaihiddengems.com
Global Village (Feb 25 – March 12)
One of Dubai's most popular family attractions, the Global Village marks its milestone 20th season by joining hands with Dubai Food Festival to offer authentic street food dishes throughout the festival at its restaurants, cafes and kiosks representing its multicultural aspect under the Signature Taste promotion. Visit www.globalvillage.ae
Gumball Park, BOXPARK (February 25 – March 12)
BoxPark celebrates Dubai Food Festival with an exciting 'Spend & Win' competition which featuring 'a Gumball Park' in which customers spending above Dh200 will either win a Gold Gummy bear worth Dh30,000 or an instant prize free meals at BoxPark restaurants or offers put together by BoxPark's unique stores and restaurants.
Cookie of Fortune, The Beach (February 25 – March 12)
The Beach celebrates Dubai Food Festival with an exciting 'Spend & Win' competition which features paper 'cookies of fortune' in which customers will either have a fortune or an instant prize such as 50% off a meal or a free drink from one of the other restaurants.
Customers also have an opportunity to win the Grand prize of a Golden Cookie worth Dh30,000.
During DFF 2016, The Beach will also have various other activities including a Fortune cookie workshop showing customers how to make their own origami fortune cookies; Musical Entertainment featuring a roaming barbershop quartet dressed as chefs, who will be visiting all F&B outlets with the aim of encouraging patrons to spend Dh200 for a chance to win the golden cookie worth Dh30,000; Four unique Food Trucks placed in a central location at THE BEACH and offering a range of food choices, picnic benches with umbrellas and tasteful music from DJ's.
Dubai Duty Free Tennis Stadium (February 15- 27)
To celebrate the Dubai Food Festival 2016, for the first-time ever you can enjoy the famed French, 3-Michelin-starred Chef, Jean-Georges signature Pretzel Dusted Baby Squid, with homemade Spicy Marinara and Mustard Aioli during one of the region's most eagerly awaited sport events, the Dubai Duty Free Tennis Championships 2016.
This delicious dish by the renowned restaurant is presented at a tempting price of just Dh40 exclusively available during the Dubai Duty Free Tennis Championships.
Tickets and registration for events and promotions available via www.dubaifoodfestival.com
Follow Emirates 24|7 on Google News.