Dubai 'Selficar'… touch screen or speak to go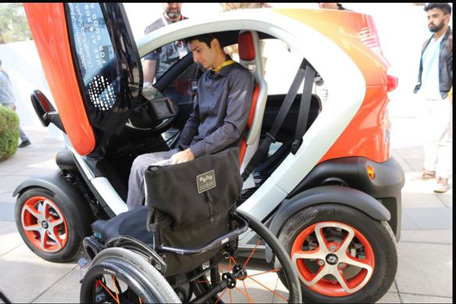 As Dubai works to transform into an inclusive and disability-friendly city by 2020, local entrepreneurs are working on technologies to achieve the goal.
Digi Robotics has unveiled the prototype of a driverless car, named "The SelfiCar", for people with disability.
"We have transformed an eclectic car into a driverless car that has been designed to offer easy access for wheelchair people. The car can be driven by touch screen or voice activation command systems," company Business Development Manager Gautam Ahuja told Emirates24|7.
The company is participating in the three-day AccessAbilities Expo, which opened on Tuesday. The event has participation of over 150 exhibitors from over 30 countries.
With a push of button, the seat of the car turns around, making it easy for the disabled to move into the car. Once on the seat, a touch of a button or voice command will take the car to the chosen location using built it maps.
Ahuja expects the SelfiCar to be rolled out by mid-2016. However, it is not cheap. The estimated cost could be between $125,000 and $130,000.
Sign language translator
Making it easier for the public to understand sign language, Kintrans, a local company, has rolled out its real time sign language translator.
"The device is being installed in Al Amal School for Deaf Students and Al Qassimi Hospital, Sharjah," company CEO Mohamed Elwazer told this website.
The "Hands Can Talk" device has an associated software license, allowing companies to be flexible in accommodating the amount of time the device is engaged for translating customers' sign language. It incorporates American Sign Language and Arabic Union Sign Language, with spoken language as English.
"As our markets grow, we will have additional sign languages installed," he added.
The General Directorate of Residency and Foreigners Affairs-Dubai is also working on a project to have a disabled friendly walkway.
"We are working to have walkways in our main office for visually impaired people. We are expecting to implement the plan in 2017," an official at the expo said.
Task force
In August 2015, Khaled Al Kamda, Director-General, Community Development Authority (CDA) had told Emirates 24|7 that Dubai would become a barrier-free, inclusive and disability-friendly city by 2020.
He had revealed that a task force had been set up under the chairmanship of the Roads and Transport Authority, which is working on a plan for accessible transportation, accessible buildings, pathways and everything else in between.
Read: Dubai 2020: Barrier-free, inclusive, disability-friendly
Follow Emirates 24|7 on Google News.