Dubai TV producer selling car to clear loan wins Nissan in DSF draw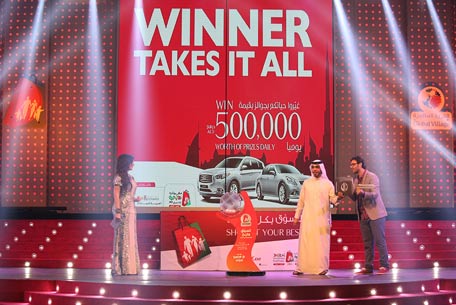 Syrian Yaman Shawaf, who was trying to sell his car to repay a bank loan, was pleasantly surprised when he hit the jackpot at Dubai Shopping Festival's Nissan mega raffle draw.

He ended up with a brand new Nissan Pathfinder.

Yes, that's right.

Yaman, who works as a TV news producer in the UAE, had stopped a petrol station to buy Salik recharge when the staff handed him a few raffle coupons for the Nissan draw.

However, Yaman didn't give it much thought, and left the unfilled coupons in the glove box of his car.

Meanwhile, he busied himself trying to sell his car to repay a bank loan.

It was only a few days later, when he had headed to a petrol station and was coaxed into buying the Infiniti Mega Raffle that he remembered about the unfilled Nissan raffle coupons in his car.

He immediately filled it out and dropped it for the draw. He returned home and was finalizing the sale of his car on the internet, when he got the call from Global Village.

Yaman claimed he thought his friends were playing a prank on him when he got the call from the Global Village telling him about his win.

"I thought my friends were pulling a fast one on me because they knew I was trying to sell my car," he said.

After hanging up, he still wasn't convinced it was true. It was only when he got a second call confirming the win that Yaman was certain.

Soon his social media accounts were flooded with congratulatory messages from his family and friends.

Yaman went in for a second draw to choose one of 14 Nissan models.

He won the Nissan Pathfinder, which he plans to sell off, as he wants to pay off his bank loan.

Yaman has more coupons and has dropped them off, hoping for a second win.

To be eligible for the Nissan Grand Raffle, shoppers must spend a minimum of Dh20 towards non-fuel purchases at ENOC or EPPCO stations. The winners stand a chance to win Pathfinder, Armada, Murano, Xterra, Patrol, Qashqai, Juke, Maxima, Altima, Sunny, Tiida, Micra Hatchback, Sentra or sports car 370Z.
Follow Emirates 24|7 on Google News.