Dutch dolls' houses of the 17th century still fascinate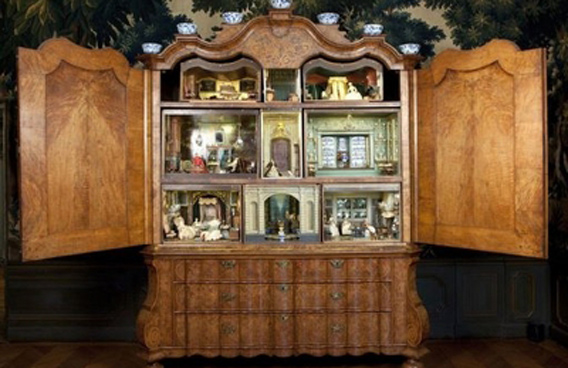 Are dolls and their houses the exclusive preserve of little girls?

Not in the eyes of wealthy 17th and 18th century Dutch and German women, who often spent a small fortune on these miniature works of art that could cost as much as a real house.

"It was mostly a hobby for rich women. They had money to spend and time to indulge. It was a social activity," Jet Pijzel-Dommisse, curator of the XXsmall exhibition currently on display The Hague's Municipal Museum told AFP.

Started in the southeastern German city of Nuremberg, the dolls' house craze soon spread across the Rhine into the Netherlands, though never caught on in France and Italy, she said.

By the 17th century, the Netherlands had entered its "Golden Age" and merchants had become extremely wealthy through maritime trade with the East and West Indies.

Wealthy residents had lots of disposable cash and preferred to spend it on luxuries such as doll's houses, rather than in sensible investments in their businesses which eventually led to a Dutch economic decline a century later.

Up to two-metres (6 feet) tall and open on one side, the miniature homes were packed with tiny treasures -- and often cost as much as their real-life counterparts.

For instance, Petronella Oortman, a rich 17th-century Amsterdam silk merchant's wife, spent 20,000 guilders at the time on a dolls' house, "the same price for a large home along one of Amsterdam's canals," said Pijzel-Dommisse.

Sara Rothe, wife to a wealthy merchant in Amstel on the outskirts of Amsterdam, owned a tiny home with miniature paintings, each a few square centimetres, painstakingly done by real artists.

Her house has a dining room, with a set table consisting of knives, forks and plates in pure silver, a buffet with filled with pottery and a library stacked with Lilliputian-sized books.

In another dolls' house, a servant is working in the kitchen, while the master of the home is reclining in the living room, listening to the regular ticking of a clock.

"At the time, everything was made by true craftsmen and artists," said Pijzel-Dommisse.

The dolls' houses were not only a pleasant pastime and a way of spending superfluous money, as well as a symbol of a certain social standing, they also played a real educational and social role.

"Life at home was much more important in Protestant countries than in Catholic countries, where the church was the centre, Pijzel-Dommisse said.

"It was important to show how a good house was kept."

Friends and neighbours came around to admire the tiny creations and were often accompanied by children who were shown what every "good house" should have.

Even strangers travelled from afar to come knock on the door of a home with a doll's house, having heard of it and wanting to see it up close.

After the Industrial Revolution, dolls' houses and their accessories slowly became standardised, mainly to a scale of 1:12.

"It's true that before that, the scale was not always perfect, but personally I love it, it gives these little homes great charm," Pijzel-Dommisse said.

Even today, dolls' houses continue to fascinate.

More than 86,000 visitors have sauntered through the Municipal Museum's halls since it opened on November 12. The exhibition runs until March 25.

"It's so beautiful and so small," a delighted Eva Mits, 78, exclaimed as she stared at a minute wooden chair, barely two centimetres high.

"You learn so much about life in the past, what homes were like, people's clothes, about women's lives," she said.
Follow Emirates 24|7 on Google News.