EAD organises Ghaf planting campaign for SSl students and stake holder partners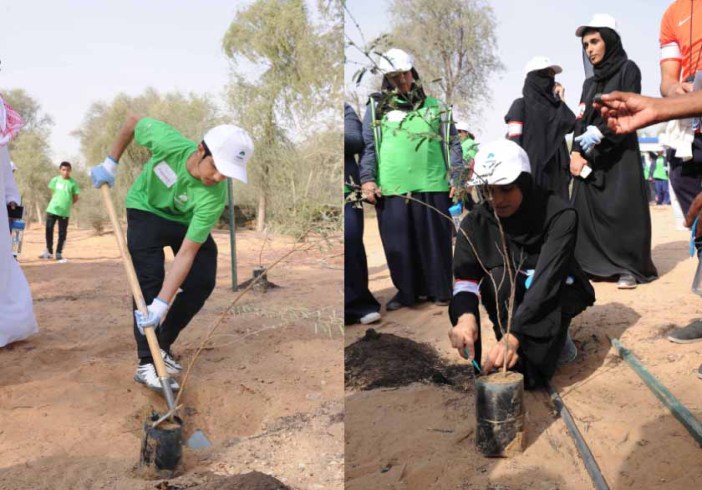 Under the theme "Together to Improve Air Quality", the Environment Agency – Abu Dhabi, EAD, along with BP, sponsor of the Sustainable Schools Initiative, SSI, has organised a plantation campaign to raise awareness about the benefits of UAE National tree, the Ghaf.
The campaign was organised at Al Salamat Forests affiliated to the Bararri Forest Management in Al Ain due to its important role in ensuring environmental sustainability, which is a habitat for many of the local plant species, such as Ghaf trees, Sidr and a number of Acacia trees.
The campaign aimed at raising awareness about the issue of climate change and the damage caused by daily practices that lead to global warming, which in turn leads to the aggravation of this issue.
EAD also aspires to guide students to contribute to taking positive positions towards the reduction of the impact of this case and by changing behavioural practice, active participation and lastly, promote a culture of social and environmental responsibility among students.
The campaign, which is the 3rd Sustainable Schools Initiative Campaign, saw the participation of 60 SSI students and more than 70 participants from government and private organisations in Abu Dhabi.
Ahead of the campaign, students were given a brief, provided with information on the roles and responsibility of the campaign, and learned more about the benefits of Ghaf trees and how to take care of them.
Kicking off the campaign, Rasha Ali Al Madfai, Section Manager - Environmentally Sustainable Schools at EAD, addressed the participants and highlighted the importance of Ghaf trees for the local environment.
She said, "The benefits of planting Ghaf trees are not purely aesthetic. Today, as we are planting 50 Ghaf trees, we are contributing to the reduction of carbon emissions, as a 10 year old Ghaf tree can sequester 34.65 Kg of CO2 per year."
Follow Emirates 24|7 on Google News.