Energy drinks may hurt kids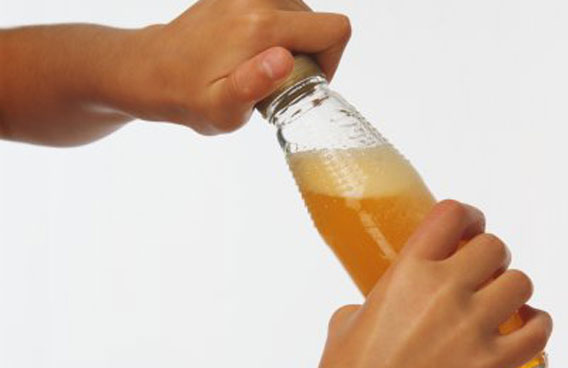 Energy drinks such as Red Bull, AMP and Rockstar have no health value and may even harm some children and teens, a new review finds.
The increasingly popular, highly caffeinated drinks are especially risky for children with heart abnormalities, attention-deficit hyperactivity disorder (ADHD) or other health or emotional problems, said Dr. Steven E. Lipshultz, co-author of the study, published online Feb. 14 in the journal Pediatrics.
"It's a set of products that are totally unregulated and have no therapeutic benefit," said Lipshultz, chairman of pediatrics at the University of Miami.
Surveys suggest that 30 percent to 50 percent of U.S. teenagers and young people consume energy drinks, despite warnings about their safety. Many users mix the energy drinks with alcohol, further heightening the potential for ill effects, say the researchers.
But even without the addition of alcohol, the beverages carry some measure of risk, according to the study authors, who reviewed numerous articles for their report.
For one thing, safe levels of energy drinks, which contain stimulants such as caffeine, taurine and guarana, have not been established for children and teens, the authors said.
An 8-ounce energy drink may contain dozens or hundreds of milligrams of caffeine, compared to 100 milligrams of caffeine in a generic cup of coffee. An 8-ounce serving of Red Bull contains 77 milligrams of caffeine, compared to 28 milligrams in an equal amount of Mountain Dew, the report noted.
Energy-drink manufacturers often add other ingredients, such as sugar and herbal supplements, whose effects haven't been well-studied. And, some ingredients can interfere with medications, the authors added.
But the maker of Red Bull took issue with the findings.
"This article just draws together material from the Internet, and largely ignores in its conclusions the genuine, scientifically rigorous examination of energy drinks by reputable national authorities. For example, the European Unions food safety authorities spent 10 years thoroughly examining energy drinks and concluded that the key ingredients [taurine and glucuronolactone] are of no concern," Red Bull officials said in a statement. "The effects of caffeine are well-known, and as an 8.4-ounce can of Red Bull contains about the same amount of caffeine as a cup of coffee [80 mg], it should be treated accordingly."
Although energy drinks contain caffeine in amounts similar to those in a few cups of coffee, Lipshultz said the drinks are consumed differently and faster.
"They're usually served chilled or iced. They might chug a couple of these after physical activity, or it's something you might take while studying," he said. "You might take a couple at a time; it's unusual to take a hot cup of coffee and rapidly ingest multiple cups. It's a little bit different."
Besides young people with ADHD and heart problems, the drinks can be hazardous to children who suffer from diabetes, seizures and psychological problems. "There needs to be awareness by pediatricians and the public of the possible effects of energy drinks, especially in the vulnerable populations," Lipshultz said.
In countries that track adverse events from energy drinks, cases of agitation, liver damage, kidney failure, psychosis and a heart attack in a 23-year-old have been reported. Nearly half of the 5,448 caffeine overdoses reported in the United States in 2007 occurred in people under the age of 19, the study noted although these were not directly tied to energy drinks.
Caffeine can affect young people more than adults, because they may not have developed tolerance for it and their bodies may be smaller, said Bruce Goldberger, director of toxicology at the University of Florida College of Medicine, who has studied energy drinks.
Even so, "I think they're probably safe generally," said Goldberger.
Currently, the FDA limits caffeine drinks to 71 mg per 12-ounce serving, but energy drink makers get around the rule by labeling their products "natural," the authors noted.
Follow Emirates 24|7 on Google News.