Environment Agency assessment reveals 80% of Abu Dhabi's mangroves are healthy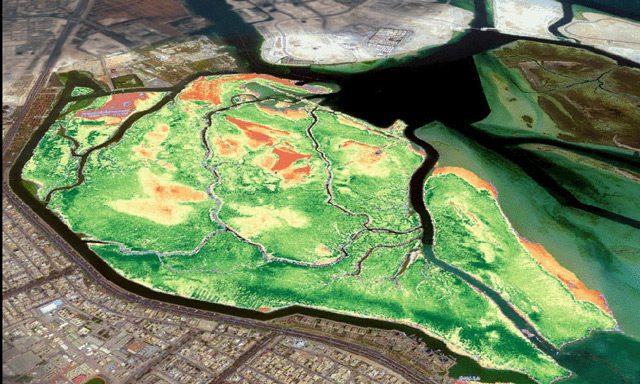 The Environment Agency – Abu Dhabi (EAD) has recently completed a detailed mapping and health assessment of mangroves in the Emirate of Abu Dhabi, revealing that more than 80% of existing mangroves are healthy; while 15% were identified as being in moderate health and 5% were identified as being in deteriorating health. The deteriorating health conditions could be attributed to recent developmental activities around Abu Dhabi Island.
Mangroves, small trees that grown in saline or brackish waters, are an important component of the emirate's ecosystem, with over 150 km² of natural and planted mangroves. They protect the coastlines from erosion, provide a breeding ground for various fish species, and sequester atmospheric carbon. Mangroves are, however, susceptible to damage from offshore dredging, increase in atmospheric CO2 concentrations, escalating global surface temperature, rising sea levels and human development in coastal areas. Changes in salinity, pollutants, and sedimentation also have detrimental effects on the mangrove ecosystems. This is why EAD constantly monitors the health and extent of mangroves.
As part of its assessment, EAD was able to precisely identify areas of mangroves that are being exposed to higher stress due to human intervention. This information will be used to determine and potentially mitigate the external factors that are detrimental to the health of the mangrove ecosystem. The information from the assessment will assist in EAD's remediation efforts, by selecting favourable areas to plant new mangroves to compensate for those areas that have been lost due to developmental activities.
The assessment involved the extraction of information from high-resolution multispectral satellite imagery through advanced image processing techniques and extensive field verification. The spatial distribution of healthy and unhealthy areas were mapped with an accuracy of up to 90%.
EAD also mapped the changes in areas covered by mangroves from satellite images collected over three decades. It was found that whilst there was a 26% decrease in extent from 1987 to 2001, recent successful regeneration efforts have reversed this decline, and resulted in a 61% increase from 2001 to 2017.
Dr. Shaikha Salem Al Dhaheri, Executive Director of Terrestrial and Marine Biodiversity Sector at EAD said: "The results of the assessment adds great value to our efforts in conserving the mangroves by providing information on the extent and health status in a rapid manner. It also helps in identifying anthropogenic and natural impacts on this highly critical and sensitive habitat."
She added, "Through this assessment we were able to establish an accurate baseline of the health and extent of existing mangroves. This will allow us in better understanding the ecosystem services mangroves are providing including carbon sequestration, which is integral to studying the impacts of climate change."
Back in the late 1970s, massive mangrove plantation programmes were put in place by the late Sheikh Zayed bin Sultan Al Nahyan. This substantially contributed to the increase of mangrove plantation over the past decades.
Today, EAD works to rehabilitate and protect mangrove forests along the coast of Abu Dhabi Emirate's mainland and islands. Since November 2009, EAD has been actively involved in leading the Mangrove Rehabilitation Programme, planting 3.1 million mangrove saplings on the coasts of Al Gharbia, Saadiyat, Jubail and Habitat Island. The plantation programme helps to reduce the adverse effects of coastal development on the naturally growing mangroves.
Follow Emirates 24|7 on Google News.