Etihad Airways crowns winner of 'Taste The World' at Taste of Sydney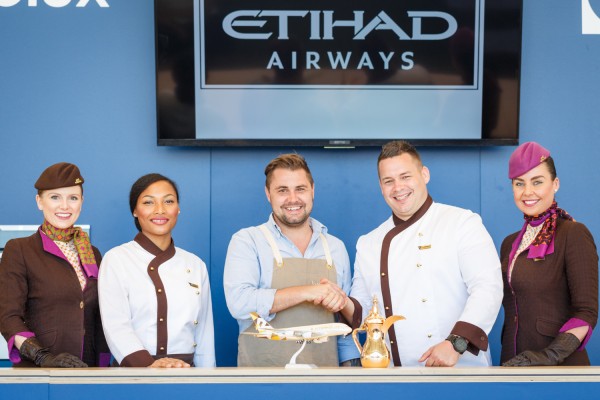 Etihad Airways, the national airline of the United Arab Emirates and official airline partner of Taste of Sydney, crowned Harry Stockdale-Powell, from Bouche on Bridge, winner of the Taste the World competition in Sydney on 12th March.
The Taste the World award is presented to the chef who best epitomises Etihad Airways' food philosophy, which aims to provide remarkable culinary experiences throughout the entire guest journey.
Each chef entry was judged independently by an expert panel which comprised an Etihad Airways Inflight chef, a Taste expert and Sydney-based food media.
Harry Stockdale-Powell will receive return flights and accommodation courtesy of Etihad Airways to participate in the competition's global final, Taste of Abu Dhabi, in November 2017.
He will compete at the Etihad Airways Taste the World Theatre, representing Sydney and Bouche on Bridge.
The winning Taste the World dish at Taste of Sydney was 'Wallaby skewers with a spiced cashew sauce', which featured wild Tasmanian Wallaby tenderloins marinated and cooked over charcoal and served with a spiced cashew sauce.
Harry Stockdale-Powell, Executive Chef at Bouche on Bridge, said, "It's an honour to be chosen as Taste the World winner this past weekend. I can't wait to represent Taste of Sydney at the finals in November, and I'm stoked to be showcasing the best Australian produce in Abu Dhabi."
Patrick Pierce, Vice President Marketing and Partnerships at Etihad Airways, said, "Etihad Airways is thrilled to see Harry Stockdale-Powell win the Taste the World Award. He demonstrated innovative cooking techniques and use of ingredients to create a truly remarkable dish. We look forward to welcoming Harry to our home at Taste of Abu Dhabi in November.
"Etihad Airways draws inspiration from the best restaurants and emerging chefs from culinary capitals worldwide, and serves cuisine both on the ground and in the air with the style and sophistication that has become synonymous with the Etihad Airways brand."
Justin Clarke, Director of Taste Festivals Ltd., said, "We are delighted to be in partnership with Etihad Airways. Their commitment to being the world's leading culinary airline is both exciting and a testament to the logical brand fit between Etihad Airways and Taste Festivals. We look forward to working with Etihad and the Taste the World winners as they continue to inspire and innovate."
Murray Reason, Etihad Airways Inflight Chef, commented on the elite competition, saying, "The level of originality showcased by all chefs as part of Taste the World is something to be celebrated. I commend them for their culinary merits and their inspirational passion for the profession. I am very much looking forward to the finals in our home, Abu Dhabi, later this year."
Etihad Airways operates a total of 42 weekly flights from Brisbane, Sydney, Melbourne and Perth to Abu Dhabi, where passengers can connect to onward flights to more than 100 destinations worldwide.
Follow Emirates 24|7 on Google News.