10-year-old 'most beautiful girl in the world' faces controversy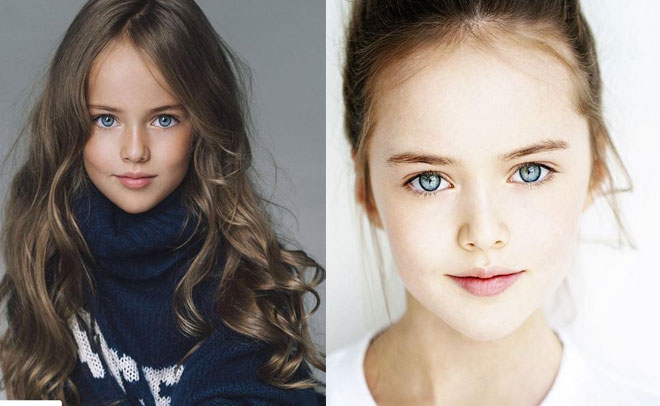 Kristina Pimenova has been modelling since the age of three and doing catwalk shows since she was four.
She has already been the face of Roberto Cavalli, Dolce & Gabbana, Armani and has more than two million followers on Facebook and 1.2million on her Instagram.
Now the Russian-born model has moved from Moscow to Los Angeles to sign with prestigious agency LA Models.
LA Models has signed Kristina for its 'Youths' section.
Agency owner Heinz Holba wrote ono Twitter: 'To have notoriety in the modelling world at the young age of 10 is not a small feat.'
'The agency is looking forward to having a long-lasting relationship with this little Supermodel [sic].'
However, her career has already proven highly controversial – because she's only 10 years old.
Her mother Glikeriya Pimenova, 40, manages her social media.
But photos the 'little supermodel' often provoke disturbing comments and her mother was last year criticised for publishing 'provocative' photos of her daughter on social media.
Her social media presence by itself is highly controversial – particularly the photos of her in bed, or in a bikini on the beach.
Disturbingly, the comments tend to alternate between men posting 'provocative' remarks, or people calling out the men posting 'inappropriate' remarks.
Despite the worrying comments, Kristina's mum Glikeriya Pimenova, 40, doesn't see anything wrong with the photos.
She believes that pictures showcasing children's clothes are not provocative.
In an interview with MailOnline last year, Glikeriya said: "You must think like a paedophile in order to see something sexual in these pictures, so it is time for you to see a doctor."
Although Kristina only models children's clothing, and wears very little make-up in her professional shots, it is photos which involve her wearing shorts or little skirts which seem to lead to disturbing comments.
All pics: Instagram/Kristina Pimenova
Follow Emirates 24|7 on Google News.