Here's why models don't smile on the catwalk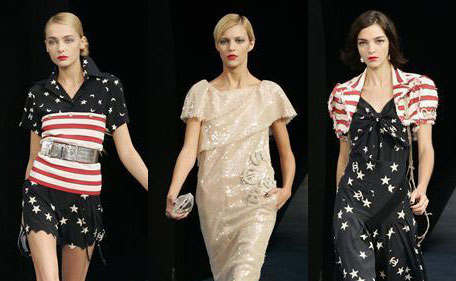 Is it stress? Fear of wrinkles? Hunger? Or a designer's artistic preference? Models on the catwalk rarely smile.
Most of the girls presenting this season's ready-to-wear collection in New York, London, Milan and Paris have paraded out with serious expressions on their faces, staring straight ahead as they made their way across the runway.
"Today, it's very well regarded in the profession to walk the catwalk without emotions," supermodel Claudia Schiffer told Reuters at the Chanel show on Friday, where somber-faced models presented sleek denim tops and floating skirts.
Schiffer, who watched the Chanel show from the front row, said runway presentations had changed since the 1990s, when the German model herself was a star on the catwalk together with colleagues such as Naomi Campbell and Cindy Crawford.
"On the catwalks, fashion now takes centre stage, rather than the girls, as had sometimes been the case in the 1990s," said Schiffer, now 37, who was discovered by a modeling scout in a German disco at the age of 17.
"In the 1990s, people were waiting to see models' emotions. Today, that's very different. It's more than anything else about doing the job well," said the tall, blonde model, who has appeared on hundreds of magazine covers.
Schiffer said models' status had also changed compared to a decade ago because fashion labels were no longer exclusively turning to them for advertising but also using actors, singers or sports stars for their campaigns.
Sixteen-year old model Irina Kulikova said she was doing some four shows per day during Paris fashion week, many of them with a serious look on her face.
"Sometimes, the designer tells you to be serious when a collection is darker," Kulikova told Reuters after she presented outfits for French fashion label Celine -- looking serious.
"Or (designers) say you shouldn't smile because it makes us look too young and ... that might not fit to a very elegant collection," the Russian model said.
Look at the dress!
Some runway shows in Paris this week featured a degree of catwalk levity. Models at Valentino's last ready-to-wear show danced and laughed with the 75-year old Italian designer at the end of his show.
But too much smiling can prove controversial.
British designer John Galliano let midgets, giants, twins and white-bearded men present a collection in 2005, and the unusual models were flirting and laughing on the runway.
Galliano earned praise for the show, but some critics said the theatrical set-up had distracted from the clothes.
Didier Grumbach, the head of France's fashion federation, said it was clear why models did not laugh on the catwalk: "When they smile you look at their smile. When they don't smile, you look at the dresses. It's probably better for the dresses."
Schiffer said she looked forward to enjoying the Chanel show from her frontrow seat, rather than from the catwalk.
"It's good to see it from the other side," she said, smiling.
Follow Emirates 24|7 on Google News.