First Arab AR game launched in the UAE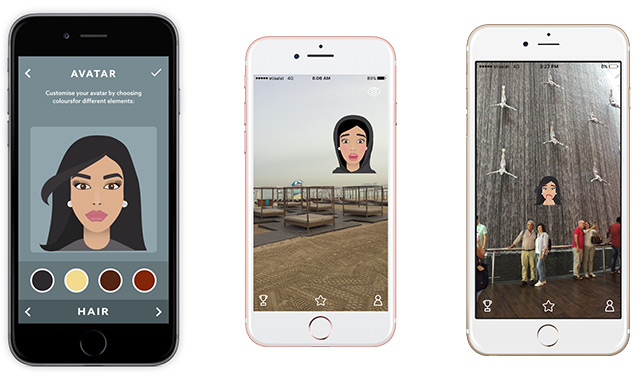 'Wain Waleed' translates from Arabic to Where's Waleed. A brand new augmented reality game brought to life by the team behind the highly successful Middle Eastern emoji app HALLA WALLA. In the first week of launch the app has received a tremendous 10,000 downloads.
Having gained praise from all corners of the globe with HALLA WALLA, the team is excited to launch the brand new gaming concept - 'Wain Waleed'. A first of it's kind in the region, the Arab characters are Waleed's crew and are hidden in the virtual reality world. The gamer's job is to find them and earn points along with plenty of goodies to win like concert tickets, dining out deals and many more exciting prizes!
'Wain Waleed' is an extension of the HALLA WALLA's brand, we wanted to bring life to our characters and thought why not add AR to the mix." highlights, Yasmine Rasool, Co-Founder, HALLA WALLA.
With the success of HALLA WALLA the sister product, 'Wain Waleed', aims to be an extension of the emojis as characters come to life. Based on the idea of finding Waleed and he's crew – Lulu, Shaikha and Ahmed is the mission. Discovering the characters ensures the gamer to move to different levels whilst earning some really cool prizes and sharing their leader board points with family and friends around the world.
The team has also tied up with various outlets to bring in the excitement to gamers as they get to different levels of the game. There are loads of other surprises in the pipeline that the HALLA WALLA team is working on.
"On a surface level, digital entertainment may be one dimensional and irrelevant but it is important for cultures to have something that reflects sociality and tradition. We are very lucky to be able to create content in a time where there are various players who are also joining our quest to create relevant content locally." explains, Eriko Varkey, Co-Founder, HALLA WALLA.
Whether at the mall, majlis, souk, beach, shisha café, or a friend's house – users can open the app and get searching to find Waleed, Lulu, and the gang. Use your phone's camera to search around you for hidden HALLA
WALLA emojis as the game interacts with your environment - so you never know where Waleed might pop up and earn you some points!
Features of the game
- Top-level Augmented Reality content discovery via geo-location
- Time and location filtered offers
- Peer driven gamified treasure hunt
Join the Khaleeji scavenger hunt and build up your points as you find objects and characters, progressing through levels to start winning prizes. Winnings could be a dinner for two, a free VIP ticket to a concert, or even a family holiday to a desert getaway.
"Our main vision is to create inspiring content, and currently we are focusing on digital entertainment. We want to create localised content, tailored for the Arab market." commented Eriko Varkey and Yasmine Rasool, Founders, HALLA WALLA.
The leader board allows players to see their real time score compared with gamers from around the world, and to compete with friends near and far. The more points you get the more you unlock and get up that leader board. Gamers can also customise their own avatar in their favourite HALLA WALLA character to reflect their personality or simply change to different characters from the app. Adjust the make up, hair and dive into finding Waleed and the gang!
Follow Emirates 24|7 on Google News.