Cavalli Club parties to the tab of a smashing Dh388,000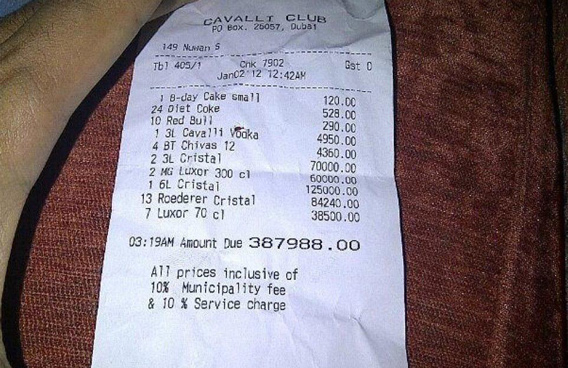 The New Year has gotten off to a rocking start, for someone in particular at least, who has chalked up a Dh387,988 at the Dubai-based Cavalli Club, Restaurant & Lounge on January 2.
The bill first came to light on social media circles, when someone posted an image of the final tally on Facebook. Since then, the image and its astronomical sum has turned into a viral hit and fodder for endless debates on 'mindless spending'.
When Emirates 24|7 caught up with David Lescarret, Operation Manger, Cavalli Club, Restaurant and Lounge, he confirmed the authenticity of the bill, adding: "We first spotted the bill online. It came to our attention through various online alerts which we have set up."
However, when asked to confirm if the bill indeed belonged to the Nigerian President's brother, Lescarret said: "Cavalli Club,Restaurant & Lounge is an exclusive venue where our valued guests are afforded anonymity and privacy. As such we prefer not to comment on whom the bill belonged to."
The breakdown of the bill sees Cristal being the drink of choice, with a single six litre bottle of the beverage retailing at Dh125,000.
Another two, three-litre bottles of Cristal at Dh35,000 a pop, plus 13 Roederer Cristal tallying to Dh84,240 brings the total spent on the bubbly alone to Dh279,240.
Other drinks adding to the total figure of approximate Dh388K included two MG Luxor 300CL at Dh60,000; seven Luxor 70CL at Dh38,500; one three-litre Cavalli Vodka at Dh4,950; and four bottles of Chivas at Dh4,360.
Meanwhile, 24 Cokes and 10 cans of Red Bull rounded up the drinks tally, with the cheapest item on the menu being a birthday cake at Dh120.
Quizzed whether such a high bill is a usual occurrence at Cavalli, Lescarret said: "Spend of this nature is not unusual at Cavalli Club. As a high-end, designer branded venue, the club has seen high-spenders consistently frequent the venue since its inception.
"We have had guests spend upward of the bill posted online."
Lescarret also revealed that the most expensive item on the club's lounge menu is a limited edition Louis Roederer, Millennium Cristal Brut 1990, 6L, the world's most expensive bottle of bubbly.
He said: "The bottle is priced at Dh500,000 and only two others are available for sale in the world – one in London and the other in New York."
Follow Emirates 24|7 on Google News.