Dubai Food Festival: Shop and win Dh50,000 at supermarkets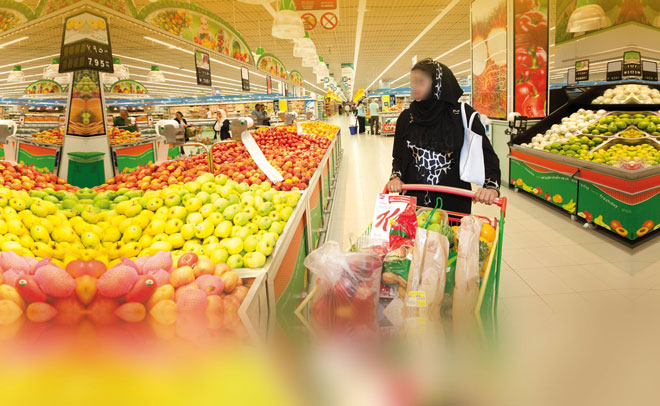 As the countdown begins for the third edition of Dubai Food Festival, the organisers have unveiled the full 17-day line-up of events, activities, gourmet superstars and promotions across the city, starting from February 25.
The Festival will feature a mouth-watering line-up of events and activities, and engage more than 1000 restaurants and 30 celebrity chefs showcasing the diversity, creativity and multicultural nature of Dubai's culinary offering.
Hosted under the new 'Celebrate Taste' theme, the 2016 edition will bring back favourites such as the Etisalat Beach Canteen, the official must-visit hub, the Masterclass Series presented by Al Islami and the popular Taste of Dubai, as well as exciting new events such as Dubai Restaurant Week, Dine With The Stars and Eat The World DXB.
Home Edition
Participating supermarkets and hypermarkets (February 25 – March 12)
This year's Home Edition promotion offers shoppers spending Dh250 at participating supermarkets and hypermarkets the chance to win prizes worth Dh50,000.
Two raffle draws will be held during the promotion with each draw offering six lucky winners the chance to win a voucher worth Dh50,000 that will allow them to shop for an entire year of groceries.
The participating supermarkets and hypermarkets are Carrefour, Lulu, Spinneys, Géant, Union Coop, and Waitrose.
supplied
The Dubai Mall
Restaurants located in The Dubai Mall Waterfront promenade will participate in 'Mondays in White' on February 29 and March 7 with each outlet offering a set menu for customers seeking to experience a quartet of musicians roaming in and out of the outlets. Further, in celebration of DFF2016, Food and Beverage outlets in The Dubai Mall are also set to entertain families and kids with a DFF Mascot Parade at the mall from February 25 to March 12.
MAF Malls
Malls of Majid Al Futtaim Properties - City Centre Deira, City Centre Mirdif & City Centre Me'aisem - will be running exciting promotions and activities as part of DFF 2016 including Spend, Dine and Win Instantly and a Food for Thought charity activity in aid of unfortunate kids, who are deprived access to food across the world.
Feed your Craving at City Centre Deira on March 4 will feature twenty-one year old Nikita Ghandi - the youngest chef to win the reality series MasterChef in India - trying different dishes from different restaurants at the mall while a Feed Your Craving activity at City Centre Mirdif on the same day will feature the Emirates youngest chef Bader Najeeb, giving cooking demonstration on stage.
Central Galleria, Mall of the Emirates (March 3 – 7) Mall of the Emirates is launching an exciting campaign for Dubai Food Festival, highlighting the various Food and Beverage experiences that the mall offers.
The campaign will include a #MOEPlateArt activation featuring chefs from the range of restaurants within the Mall of the Emirates, who will teach the 'Art of Plating' (the arrangement and overall styling of food upon bringing it to the plate) to mall visitors.
This activity will also showcase the range of styles, cuisines and extraordinary Food and Beverage offerings within the mall.
Dubai Festival City Mall; Waterfront Area (February 16 – April 30) Visitors to the mall can enjoy a range of activities and themes at City Fest at the newly-opened waterfront area including Fiesta, Arts & Expression, Film, Flower Fiesta, Up cycling & Literature, Healthy & Well-Being, Lego, Food, Sport, Installations, Cookery, Music and variety of options of food kiosks and trucks.
Mercato
As part of DFF 2016 savour a memorable visit to Mercato by participating in numerous activities for the entire family including Italian Cooking Demonstrations on how to cook delicious authentic Italian dishes in a fun and interactive way, Arabic Cooking Demonstrations on how to cook and make different authentic Arabic dishes, Cupcake Decorating Workshops featuring fun cupcake decorating workshops for children and Cinnabon Roll Making workshop that will teach children the art of making a Cinnabon.
You can also spend Dh100 in any Food and Beverage outlet at Mercato or Town Centre Jumeirah and you will have the chance to win fabulous prizes.
City Walk (February 25 – March 12)
City Walk introduces visitors to its City Picnics this DFF 2016 and encourages everyone to bring along their friends and families.
The event unfurls a variety of food choices in the dedicated picnic areas surrounded by endless games and activities for the young and the old.
Shoppers will be given a picnic basket to purchase the meal of their choice at City Walk's F&B outlets and proceed towards the picnic area infused with fun and activities for a day of food and fun.
Ibn Battuta Mall
Spend Dh100 in any Food and Beverage outlet at Ibn Battuta Mall and get a chance to win a holiday package and dining experience in Atlantis Dubai every week.
This DFF enjoy live cooking demonstration by international and regional chefs and give your kids the opportunity to participate in baking activities and workshops every weekend during the festival at Ibn Battuta from 5pm to 10pm.
Dragon Mart (February 25 – March 12)
DFF visitors spending Dh50 at any Food and Beverage outlet in Dragon Market 1 and Dragon Mart 2 have the chance to win a Dodge car This DFF you can also relish mouth-watering delights by young entrepreneurs at the Dragon Drive Food Market every day at Dragon Mart 1 and Dragon Mart 2.
Dubai Marina Mall (February 25 – 27)
At the Dubai Marina Mall Chocolate Fiesta the wonderful world of chocolates will be explored through exhibiting chocolate sculptures, tastings, chocolate menu offerings, demonstrations how chocolates are made, unique fashion, stage shows, competitions and much more.
Whether you visit with friends or family you'll find all the ingredients for a Chocolicious Day out. A chance to taste, shop, relax and indulge in.
Follow Emirates 24|7 on Google News.