Dubai's menu: 24 hour breakfast; munch brunch; Freakshake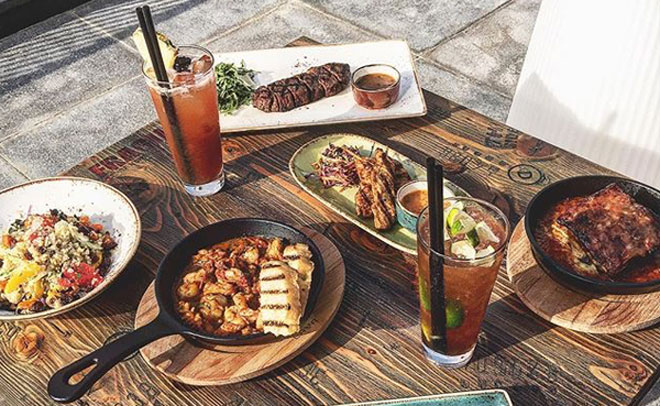 Jamaica blue 24 hours breakfast
Jamaica blue, known for its coffee will now serve breakfast spread 24 hours a day at their Flora Hotel Branch in Al Barsha from February.
Be it any time of the day, or night, every Dubai foodie can savour Jamaica Blue's Premium Single Origin Coffee along with their signature Big Breakfast, with various other options available at hand.
The 22 table outlet will cater to breakfast enthusiasts round the clock where one can enjoy a free choice of orange juice, coffee or water with a satisfying serving of eggs, beef bacon, chicken sausages, roasted tomatoes and mushrooms with toast.
For those with a medium appetite, breakfast options range from a spinach and feta omelet and grilled halloumi vegetarian breakfast option to eggs benedict and a classic bacon and egg sandwich.
Location: Jamaica blue at Flora Hotel Branch in Al Barsha
Freakshake in Dubai
The Black Lion Dubai are shaking things up with their latest addition to their new East End menu and are bringing overindulgent desserts, packed with a topping or two, to Dubai.

East End London is bringing 'freakshakes' to Dubai. Served in mason jars these dessert drinks are filled with lashings of cream, chocolate and caramel sauce.
The Pistachio and White Chocolate is a favourite, whilst the Raspberry Eton mess oozes cream and puree, topped with chunks of meringue.
With six options on the menu you're bound to pick a favourite.
LOCATION: Ground Floor, The H Dubai, No.1 Sheikh Zayed Road, Dubai
Flavours Available - Strawberry & Jam Doughnut, Pistachio & White Chocolate, Blondie, Raspberry Eton Mess, Maple & Pecan with Slice of Tart, Caramel & Banoffee and Chocolate Milkshake with Cookies.
Price - From Dh45
Launching - Friday February 12, 9am.
Iris Dubai
Fridays Le Brunch from 1pm till 5pm, welcomes diners to the world of fire and knives- the barbecue – along with many live stations including ceviche, tacos, raw bar and salad bars.
The food menu is inspired by the globetrotting chefs at Iris Dubai, making the most of the wealth of ingredients and dishes encountered on their travels.
The coolest mixologists around are ready to blend, shake and stir for you some of their most refreshing beverages.
Prices start at Dh360 (soft drinks), Dh460 (open bar), Dh560 (sparkling grape) and Dh650 (bubbly)
Opening times: Saturdays to Wednesdays from 6PM till 2AM
Thursdays and Fridays from 6PM till 3AM
Fridays Le Brunch 1PM till 5PM
Located on the 27th floor, at The Oberoi, Hotel, Dubai, UAE.
For Reservations: +9715 695 11442 / reservations@irisdubai.com
Dusty's Dubai
Make most of the cooler months in Dubai by opting to dine alfresco at Dusty's open terrace.
Located in the heart of DIFC, the venue offers guests breakfast, lunch, dinner and everything in between, in a warm and relaxed setting.
Situated in a prime location, the terrace offers fantastic views of the neighbouring DIFC area and is surrounded by lush palm trees and water features that add a natural feel to the venue.
There is a selection of breakfast offerings from granolas and fruit salads to toasted bagels and Dusty's signature breakfast including a fillet steak, truffle eggs and roasted tomatoes.
Lunch ranges from sandwiches, pastas and salads to a set Business Lunch menu for those in a hurry.
All main courses are served with your choice of a salad, herb crushed potatoes or house fries with Parmesan.
The Dinner menu is more eloquent with dishes ranging from Foie Gras, Grilled Lobster and Dusty's Signature Red Chicken and bar snacks keeping it fun and gourmet with Lobster Tacos, Grilled Squid, crostini's and favourites like the Black Cod and Rock Shrimp.
Beach canteen returns:
Families, foodies, fitness fanatics and fashionistas are in for a treat this year when the Beach Canteen returns to Kite Beach as the official hub of Dubai Food Festival.
Hosted from February 25 – March 12, the Beach Canteen will offer a brand new look, high profile celebrity chefs and a whole host of entertainment and activities.
At the heart of all the Dubai Food Festival action and with an expected attendance of over 40,000 people, the free-to-attend Beach Canteen will be the go-to destination for residents and visitors to capture the spirit of the city-wide Festival, offering information on its 17-day programme of events at an official kiosk.
The revamped and free-to-attend destination will be considerably bigger in size with more seating and new raised dining areas.
The 2016 Beach Canteen will include special events such as Best of the Farmers Market, where visitors can buy from a selection of different Dubai market's best vendors, before indulging in their purchases in a picturesque picnic setting at the beach.
What: Beach canteen
Where: Kite Beach
When: Feb 25 to March 12
Follow Emirates 24|7 on Google News.