Gilt-y pleasure: Italian artisan crafts 24-carat gold shoes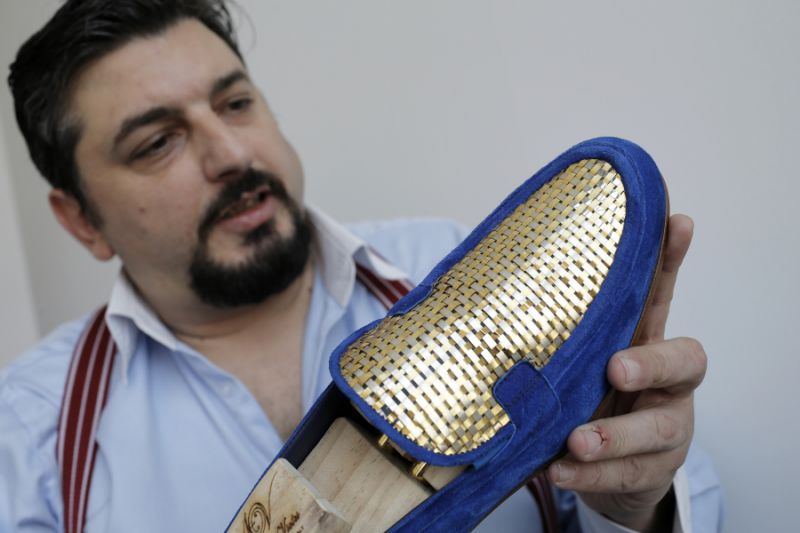 Filthy rich and already boast enough glass slippers to win a dozen princes? Italian shoemaker Antonio Vietri has the thing for you: 24-carat gold shoes.
Vietri, from Turin in northern Italy, hopes to attract shoppers from wealthy Gulf countries with his blue or black suede moccasins with stitched gold-plated uppers.
"These are the first shoes in the world in 24-carat gold," he told AFP. "The particularity of these shoes is that gold is not simply applied, it is not like an accessory or a button. Gold is an integral part of the shoe".
Small strips of gold are woven by hand and sewn with leather to ensure the moccasin uppers are comfortable.
His men's gold line was launched in 2016 "after eight months of studies and attempts," Vietri said. The women's followed this year.
"The difficulty was in finding the right balance between the strength of the gold and the flexibility of the shoe," he said.
Women shoes with gold dust patterns and Swarovski crystals made by artisans for A&V Fashion.
"If the shoe is too light, the gold will bend. If the shoe is too heavy, it hurts."
Each pair of shoes, made with 230 grams of gold, is one-of-a-kind and is made to measure using 3D foot scanners.
They retail for up to 25,000 euros ($27,000) for the men's collection, and 30,000 euros for the women's line.
A woman shoe with silver dust patterns made by artisans for A&V Fashion. Photos: AFP
The price includes delivery by helicopter, and the shoes are presented in a black lacquered box.
Vietri also does a traditional line with prices starting at 250 euros, and another in which shoes feature designs by international artists.
The luxury collection features silk pumps embellished with gold or silver and customers can decorate their chosen model with pearls or diamonds.
Follow Emirates 24|7 on Google News.