'Harry Potter', comedian Trevor Noah headed to Abu Dhabi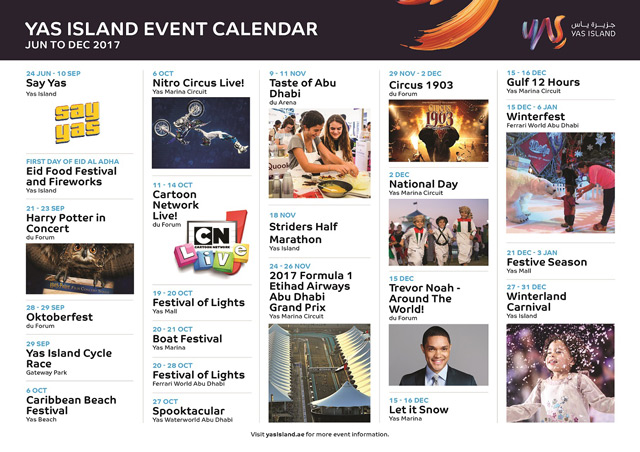 Yas Island, Abu Dhabi has revealed its programme of events for the remainder of 2017, with the support of the Abu Dhabi Tourism and Culture Authority (TCA).
The calendar includes a line-up of events including 'Harry Potter in Concert' for the first time in the GCC, the smash hit 'Circus 1903', to 'Cartoon Network Live!', adrenaline-filled 'Nitro Circus' and 'Trevor Noah – Around the World!'
Mohammed Abdulla Al Zaabi, CEO of Miral, stated: "Yas Island has become a major player in the entertainment and events industry. With the impressive line-up of artists, shows and performances we have coming up in the next six months, Yas Island looks forward to welcoming visitors from far and wide to discover the very best of Emirati hospitality."
Sultan Al Dhaheri, Acting Executive Director of tourism at TCA Abu Dhabi, added: "Working alongside Yas Island and its valuable stakeholders and partners, has been instrumental in bringing Yas Island - and Abu Dhabi - to the forefront as an exciting destination of choice, both locally and in our overseas markets. Our joint programme, expected to attract a record number of international visitors, will aid us in reaching our target for hotel guest arrivals this year. We are thrilled to see these projects come to life and look forward to many more successes in the years to come."
Kicking off in September, Yas Island will play host to a variety of returning events, along with never-before seen exclusives.
For the first time in the GCC, 'Harry Potter in Concert' will transport viewers on a magical journey as they experience symphony orchestra performing music to the entire film, celebrating one of the most beloved film franchises in history.
Audiences will be able enjoy 'Harry Potter and the Sorcerer's Stone' on a 40-foot high definition screen while hearing the Orcquesta Sinfonia de Valles performing John Williams' enchanting score, all the way from Barcelona. Debuting at the du Forum, the event will take place on September 21 – 23, and will be the first of eight movies to be screened on Yas Island.
After much demand and success in 2014, 'Nitro Circus Live' will perform at Yas Marina Circuit with a high-adrenaline show on October 6.
The global action sports phenomenon will bring an all-new show with them filled with unbelievable world firsts, spectacular tricks and mind-blowing stunts, with action sports icon Travis Pastrana, riding in the UAE for the first time.
Little ones also have something to look forward to as Cartoon Network, the UAE's most popular kids' brand, brings beloved heroes to the big stage with 'Cartoon Network Live!' The UAE will be the tour's debut and will feature familiar faces from the Powerpuff Girls to Ben Ten and more, from October 11-14 at du Forum.
November will see the return of the hugely successful 'Taste of Abu Dhabi' to Yas Island. The capital's favourite food, drink and music festival is back for its fourth year running complete with delectable treats from exciting restaurants, world class chefs, family entertainment, music and much more. The annual event will call out to food lovers everywhere from November 9 – 11 at du Arena.
For the ninth consecutive year, the 2017 F1 Etihad Airways Abu Dhabi Grand Prix returns to Yas Marina Circuit on November 24-26.
The Middle East's largest and most anticipated sporting event is once again confirmed as the last race of the 2017 Formula 1 calendar, and remains the world's only twilight race. Running alongside the landmark event is the Yasalam Festival, which promises to be an exhilarating celebration of motorsport, music, film, art, culture and community as the largest citywide entertainment program by any F1 host city.
After taking America and Australia by storm, a thrilling turn of the century circus spectacular
'Circus 1903' makes its GCC debut on Yas Island. The family-friendly show is suitable for all ages complete with sensational puppetry along with a talented cast of the most unique, amazing and dangerous circus acts from all around the world.
From strong men to contortionists, acrobats to musicians, high wire and much more, the golden age of circus is set to captivate audiences at du Forum from November 29 to December 2.
Kicking off the festive season with a crowd-pleasing performance will be Trevor Noah, Africa's most successful comedian and host of the Emmy and Peabody Award-winning The Daily Show on Comedy Central.
After headlining a sell-out show at the Dubai Comedy Festival in 2015, Noah will make his highly anticipated Abu Dhabi debut as part of his 'Around the World!' international tour on December 15 at the du Forum.
Yas Island will also see the return of familiar favourites including the UAE's National Day celebration, winter markets such as Yas Marina's Let it Snow and du Forum's Winterland Carnival as well as gastronomical sensations Eid Food Festival and 'Oktoberfest'.
Follow Emirates 24|7 on Google News.