30-weeks pregnant fitness fan shows-off 6-pack over baby bump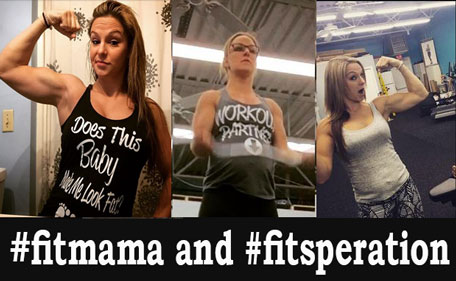 Remember lingerie model Sarah Stage who shocked the world with her tiny belly when she was eight-and-a-half months pregnant?
Well, Sarah Stage can now take a backseat - there's a new pregnant woman with a six-pack in town, and the internet is freaking out over her.
Expectant mother, Stacie Venagro is 30 weeks pregnant but she is also a fitness fanatic.
She defends her strict pregnancy workout routine, insisting both she and her baby are 'perfectly healthy' as one can clear see ab muscles over her baby bump on her Instagram posts.
But she insists that doctors say her lifestyle is perfectly healthy. She also maintains a healthy diet, writes on Instagram: "One thing I would note is that I am not on a "low-cal" diet by any means. My body needs 2000 cals a day and I always take in that much to fuel my body with the necessary nutrients!"
The 31-year-old – who has won the World Miss Fitness Pro three times – has shared the pictures of her pregnancy and chronicled her stages under the hashtags #fitmama and #fitsperation.
Since finding out she was pregnant she has kept up the gym visits and added required calories to her daily allowance.
Her breakfast includes a protein shake with blueberries, chia and flax seeds, frozen berries, coconut oil, and powdered peanut butter.
Lunch is egg whites, health food toast or pasta, chicken and green beans.
Stacie said that she first started to see a change in her body at 20 weeks (most women start to show at 12 to 16 weeks), when she saw her stomach coming out a bit and realized her jeans didn't fit as well.
By 25 weeks, some workouts were getting harder, like yoga, and she eventually had to adjust her core workouts so she wasn't doing them on her back.
At 28 weeks, something had happened to her body that never had before. She shared a picture on Instagram with the caption: 'I've got a "b****-do" - it's where my belly sticks out more than my booty do!'
All pics: Stacie Venagro/Instagram
Follow Emirates 24|7 on Google News.