Infant swallows 3.5 cm pin & successfully recovers after surgical removal of the object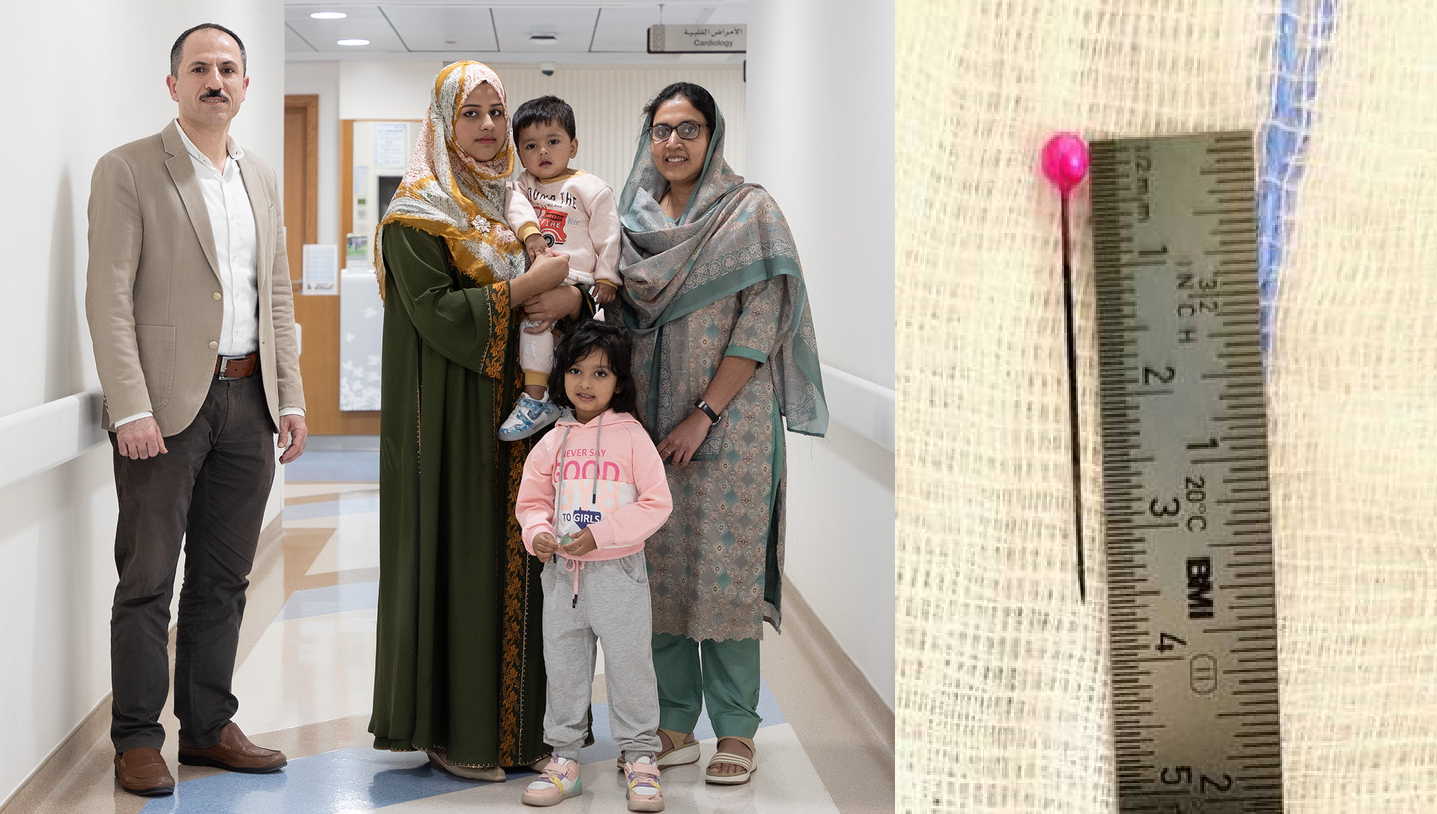 Parents of a 1.5 year old infant Dewan Abdullah Ahmad were worried when they noticed the child was continuously coughing and experiencing breathing difficulties. Even after prolonged medication, they had not seen any improvement in the child's health. Unaware of the cause, they rushed him to Zulekha Hospital Dubai to consult Dr. Suni Akbar - Specialist Pediatrics. Dr. Suni then suggested a chest X-Ray to be taken to address the breathing difficulty which revealed the 3.5 CM pin inside the body, in the left main bronchus.
Immediately the situation was discussed with the team of doctors and parents were assured that the foreign body can be removed safely. The child was then admitted, a CT scan was also done to ensure the exact position of the pin was known and to rule out possible lung injury. Specialist Thoracic Surgery Dr. Khaldoon Abo Dakka was consulted and he planned for urgent bronchoscopy under general anesthesia by which the rusted pin could be removed safely with no complications.

Dr Khaldoon mentioned "The rusted 3.5 cm pin seemed to be there for a long time, and thankfully no major injury happened. In case the pin had gone undetected it could pierce through the wall and damage the vital chest organs including the lung, heart and blood vessels."
In the course of the hospital admission the child was diagnosed with Pneumonia which the doctors treated alongside. The medical team of doctors including Dr. Suni Akbar, Dr. Khaldoon Abo Dakka, Dr Ganesh Somasundram, Consultant Cardiac Anesthetist, Dr. Anurag Ayachit, Specialist Radiology and the nursing team worked together to ensure the investigations and procedure was carried out successfully and the child recovered without any difficulties.
Dr. Suni Akbar added, "Parents must keep a watch on their children, especially infants who always try to put objects into their mouth. Take care not to drop things on the floor, and avoid giving nuts and hard candies to them, and ensure grapes are always cut into smaller pieces and given to children below the age of four. Children must never be given coins or toys with magnets that can be removed easily. These foreign objects can go in and cause the child to choke that can even lead to death in certain cases."
Mother of Dewan, Farheen profusely thanked the hospital and doctors saying, "I don't know what would happen if this was not found in time. My child was saved by the prompt diagnosis of the problem and the emergency procedure done to remove the pin. I am very thankful to the doctors for saving my child".
Doctors call on parents to take precautions and keep a watchful eye on children, who can put themselves into such medical emergencies. Time may not always be favorable to even rush to a nearby medical facility or perform a procedure. Public is encouraged to raise awareness on this important subject of child safety.
Follow Emirates 24|7 on Google News.