Iconic Swiss mountain lights up for first train ride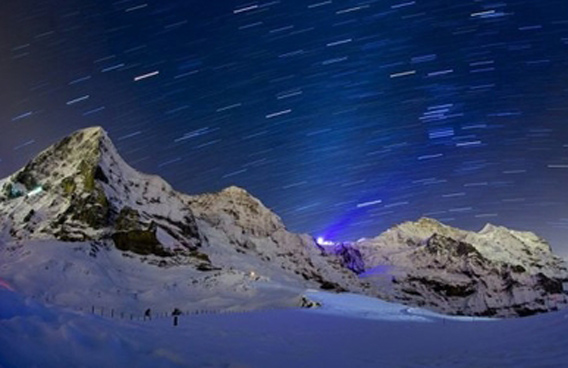 Switzerland will mark the 100 years since the construction of a railway up one of the main summits of the Bernese Alps, the iconic Jungfrau, with the illumination of its north face until Sunday.

The colours of the Swiss national flag, pictures of the Jungfrau train and the portrait of industrialist Adolf Guyer-Zeller, who founded the Jungfraubahn railway, are beamed onto the massive mountain wall.

Weather permitting the light show which started up at an altitude of 3,800 metres (12,470 feet) will take place at least four times.

However, on New Year's Eve it had to be cancelled because of poor weather.

With temperatures easily dropping to minus 30 degrees Celsius (minus 22 Fahrenheit) in winter operators involved in the project moved spare food for three weeks up the mountain in case they remain blocked.

The Jungfraujoch railway was inaugurated in 1912 after 16 years. Trains which are extremely popular with tourists carry about 700,000 people up the mountain every year.
The Jungfrau, German for maiden or virgin, peaks at 4,158 metres (13,642 feet) and is close to the Eiger whose towering north face is a major challenge for mountaineers.
Follow Emirates 24|7 on Google News.