Irish Birds of Prey Centre benefits from Sheikh Surour's gift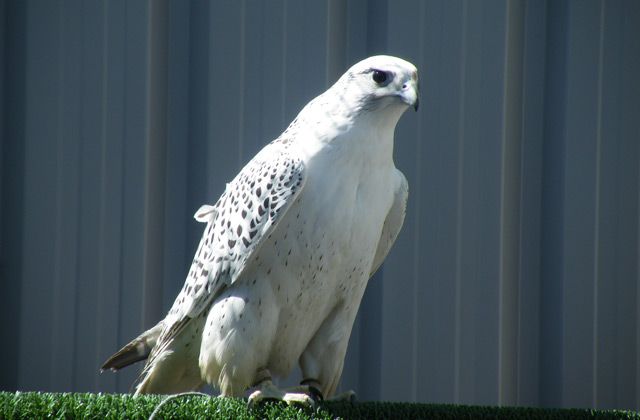 Just two years old, the Ireland Birds of Prey Centre at Russborough House, near the small town of Blessington, just south of the Irish capital of Dublin, is hoping to attract an increased number of visitors from the UAE and other Arabian Gulf states this summer as its collection of birds continues to grow.
Among the birds on display at Russborough House are seven gyrfalcons, the largest of the falcon species, which are very rare visitors to Ireland. The gyrfalcons were donated by the UAE's Sheikh Surour bin Mohammed Al Nahyan, following a visit to the Centre last year.
"We are extremely appreciative of this gift," says the Centre's owner, Tom Byrne, "as it gives visitors a chance to see and learn about these beautiful birds which, without Sheikh Surour's kind gift, they would not be able to do."
Sheikh Surour also donated a peregrine, another species of falcon of which around 400 pairs breed in Ireland. Like the gyrfalcon, the peregrine (shaheen in Arabic), is a popular bird amongst Arab falconers.
"I am delighted to have been able to support the work of the Centre," Sheikh Surour told the Emirates News Agency, WAM. "At a time when many falcon species, as well as other birds, are facing the threat of declining populations and extinction, centres like this have a great role to play in educating people both about the importance of conservation and about our traditional Arab sport of falconry, an essential part of our cultural heritage."
Holding birds from around the world, as well as species native to Ireland, the Centre, which holds a European zoo licence, is actively involved in conservation and education, bringing awareness to the general public regarding the plight of and extinction of many different birds of prey in Ireland.
Byrne notes that amongst the species held at the Centre are three which have been extinct in Ireland as breeding species for over 100 years, the golden eagle, the white-tailed sea-eagle and the red kite. Reintroduction programmes are currently under way in Ireland for all three species and the Centre works closely with the reintroduction programmes in an educational capacity, introducing the public to these magnificent birds.
Another focus for visitors is the promotion of falconry, with Byrne noting that "falconry as a sport is enjoying a rise in interest. This I can see first-hand as we do tuition here in off-peak periods, and interest is growing in falconry, not only in the hunting field. Many people fly a bird of prey just for the joy of it and to experience the relationship one has to have with the bird."
Visitors to the Centre, Byrne says, include both adults and children, residents of Ireland and tourists, with facilities being available for special-needs groups. "All of them," he adds, "enjoy meeting and learning about the different birds and watching them fly in our demonstrations."
Follow Emirates 24|7 on Google News.