Launch of One School One Country lights up the path to WorldSkills Abu Dhabi 2017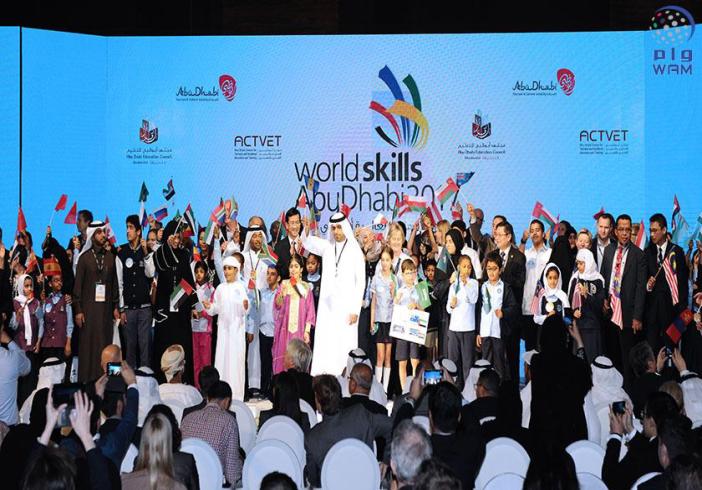 Flag-waving school children on Monday greeted international delegates at the launch of the One School One Country programme by the Abu Dhabi Centre for Technical and Vocational Education and Training (ACTVET), which forms a key part of WorldSkills Abu Dhabi 2017.
In a colourful ceremony at the Fairmont Bab Al Bahr, students from 59 ACTVET Abu Dhabi Education (ADEC) schools welcomed representatives of the Member countries and regions taking part in WorldSkills Abu Dhabi 2017, the world championship of skills.
Hussain bin Ibrahim Al Hammadi, Minister of Education, Dr. Ali Rashid Al Nuaimi, Director-General of Abu Dhabi Education Council, Mubarak Al Shamsi, Director-General of ACTVET, and Simon Bartley, the President of WorldSkills.
Today's ceremony saw each school officially paired with delegates from one of the Member teams. They were watched by an invited audience that included ambassadors, senior Government officials and representatives of WorldSkills International.
In his speech at the event, Mubarak Al Shamsi said: "The bonds of friendship we witness for the first time today will grow in the coming months as the school students and teams learn more about each other.
"This will reach a peak on the evening of the Competition when these young people finally meet in person and celebrate this wonderful occasion together."
"WorldSkills Abu Dhabi 2017 is a celebration. Of youth and for youth; one that we will witness with pride and with hope for the future generations."
Simon Bartley, the President of WorldSkills, said: "'The schools from across the United Arab Emirates gathered here today for the launch of One School One Country are not only responsible for educating the children that they teach but in doing so are responsible for ensuring our futures, the future of Abu Dhabi and the United Arab Emirates and the future of the world."
"By the very act of their partnering with Competitors from WorldSkills Members they will create an understanding which will help create a peaceful future: a peaceful future for them and their children, and their children's children'"
One School One Country is an exchange programme that brings students and WorldSkills Member countries and regions together, to share each other's cultures and values and increase awareness about the power of vocational skills to improve lives around the world.
Teams will finally travel to Abu Dhabi in October, visiting their adopted schools on the eve of this year's Competition for a day of celebration.
WorldSkills Abu Dhabi 2017, the world's biggest vocational skills competition, is open to the public free of charge at the Abu Dhabi National Exhibition Centre from 15 – 18 October, with invitation-only Opening and Closing Ceremonies at du Arena on 14 October and 19 October.
Follow Emirates 24|7 on Google News.