Lebanese designer Elie Saab is a winner at Paris Fashion Week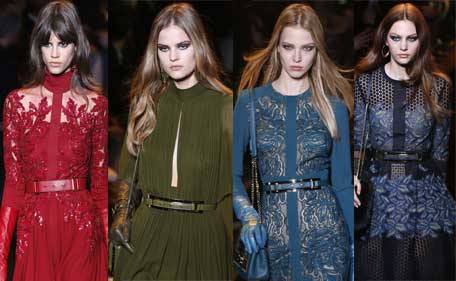 It was a creative and varied show from the popular Lebanese designer.
To rousing military music, the first looks surprised the fashion crowd by how un-Elie Saab they appeared: constructed silhouettes with chic military buttons, lining a long slender coat or a military jacket in black. It was, at first, a welcome darker, more menswear vibe.
AFP
Following on from the forest-theme in the strong couture show, here the decor was of trees. This was mirrored in the catwalk show by a dalliance with an earth green button up shirt, pant or loose sheath dress, and later, in floral embellishments on a short, fitted A-line mini dress.
AFP
For those va-va-voom Saab addicts there was also must to be had — including the trademark silk column silhouettes, one with a nice halter neck.
The signature styles were, however, nicely broken up by some must-have individual looks like one crimson leather fitted jacket and skirt with an enviable wide zigzag pleat.
AFP
In a more classical, elegant vein, Elie Saab's show staged in an elaborate venue in the gardens in front of the Louvre.
The Lebanese designer showed a distinct penchant for gloves and belts in a mostly black and glittering, sexy collection that would not look out of place in the chic nightclubs in Dubai, Beirut or Moscow.
AFP
The show was broadly appreciated by a crowd that included French actress Beart who took the pride of place on the Elie Saab front row.
The 'Manon des Sources' star, who is a client, gushed about Saab's designs.
AFP
"I'm looking for dreams, fantasies... I've been wearing Elie Saab for 20 years now: in Cannes, in movies, on theater onstage, you know," she said, before declaring her undying passion for the 50-year-old.
"And I'm just madly in love with this man and I think he's the greatest designer," she added
AFP
Saab said he sought to start with structure, then soften it through the use of Juliette sleeves and open backs.
"Lace liberates the upper legs, where light appears behind poetic turns of embroidered foliage to reveal a diffuse yet feminine form," he said.
AFP
Follow Emirates 24|7 on Google News.