10 ways to celebrate Valentine's Day without spending money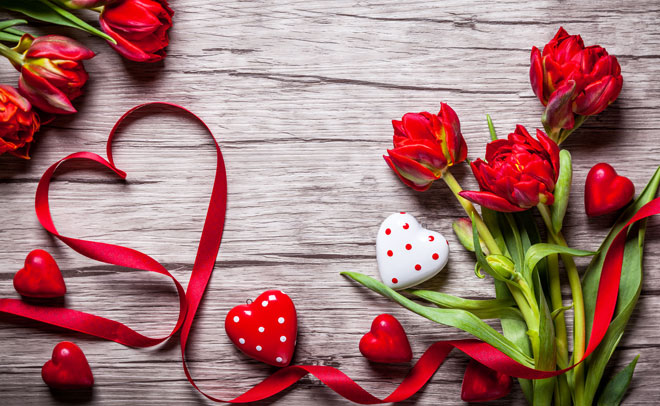 Being thrifty might not be the best option on Valentine's Day - household peace should be your priority.
If there is one occasion that preys on your heartstrings and equally on your purse strings, it is this one.
Between the roses, assorted chocolate, gifts and restaurant reservations we end up swiping our cards more than we want to for all those romantic gestures (for household peace again).
But don't let finances stop you from having a romantic Valentine's Day. With proper planning, an inexpensive yet meaningful celebration is within your reach.
We at Emirates 24|7 did some brainstorming and have come up with 10 swoon-worthy ways you can focus on your intentions and not your expenses.
1. Go to the beach
Depending on where you live and the weather, you can plan inexpensive dates like going to the beach.
Our colleague Sneha suggests, "Mamzar beach as a perfect location with its pristine stretch of sand."
This public beach is relatively unknown and less crowded to give you that needed privacy. Pack a picnic hamper, occupy one of the beach shelters and enjoy some romantic time without burning a hole in your pocket.
The beach also has washrooms, showers cubicles and children's play areas. The beach that runs a few hundred metres starting from one side of Al Mamzar Beach Park on Al Khaleej Road.
Another colleague Bindu says, "Head to Kite Beach with deck chairs, table, electric candles, for a DIY dinner; take the iPad along for a movie under the stars."
In the evening you can also witness kite surfers in the emerald waters of the Arabian Gulf in the Beach, situated across the way from the Al Manara Road Junction.
Children's play areas and a great view of the Burj Al Arab also promise a memorable day.
2. Desert camping
Head towards Lahbab, which is one of the most popular spots for campers.
Known for its spectacular red sands, you can enjoy a spectacular star gazing night-out near Fossil Rock.
A barbecue in this weather is the best thing but if you want to stay hassle free pack your dinner from home.
Our colleague Kamran says, "It's easy to reach Lahbab take Dubai-Al Ain Rd/E66 and E77."
Tia who has been to Al Qudra Lakes speaks highly about the location in the middle of the Seih Al Salam desert and Bab Al Shams. These man-made lakes were created and managed by the civic body as part of a project to green and enrich that part of the desert of Dubai.
Go there by afternoon and you can see some 130 species of birds.
The lakeside scenery, beautiful greens and all kinds of fauna has made Al Qudra Lakes a popular destination for camper in no time.
The easiest access seem to be to take the road passing Arabian Ranches and Dubai Polo and Equestrian Club. From the Polo Club it is 28 km to the Saih al Salam–Qudra lake. There is Al Qudra cycle track and Al Qudra desert camping area in the way towards the lake.
3. Long drives
Driving down to Kalba from Dubai is a pretty drive. Takes you through some very nice desert scenery then into the mountains including a drive through a charming little wadi village, before a nice tunnel and then the beach at Kalba.
Witness lots of change in the scenery along the way and marvel at nature's wonder.
After Kalba, go up the coast till you reach Fujeirah city. Go on the new highway through the mountains (incredible road, 120km/h limit) and back to Maliha road.
Redditor Mike Bruski suggests, "Start in Dubai and head towards Dibba-Fujeirah-Maliha-Dubai. Start on SZR, go towards Sharjah Airport, and keep going towards Al Dhaid, then Masafi, then Dibba. From Dibba, drive down the coast through Khor Fakkan all the way to Fujeirah, and again, hit the highway through the mountains (E84) towards Maliha and back to Dubai."
The scenery changes drastically from the Dubai skyline to the green Sharjah University area, to the hilly desert right before Al Dhaid, small villages and real Arabic feel to jagged mountains between Masafi and Dibba and the Arabian Sea coast.
P.S. Keep your National IDs or passports handy
4. Get physical
Go for a walk, hike, or bike ride. Remember, exercise release endorphins, so you'll get to enjoy each other's company in the great outdoors.
Make sure you stop and take in the scenery around you, especially sunrises and sunsets. These are some things that money can't buy.
5. Dinner at Home
Candles and Valentine's Day go hand in hand.
Prepare a romantic dinner at home for your Valentine by cooking a favorite meal. Play romantic music and decorate with some flowers if you can.
Mil suggests, "Involve your partner in the kitchen. While one is doing the garnishing, the other can set the table, switch on the music and light the candles. After dinner husbands can clear the tables and do the dishes and let the wives rest for a change.
6. Movie/Music at home
Prepare in advance for this one says Meesha, "Create a CD with love songs that you and your loved one can enjoy together."
"How about watching your all-time favorite movies together? Mil suggests, "Turn your living room into a movie theatre!"
Sharing a delicious take away and a great film with your Valentine is fun, simple and intimate.
Light candles, cover the table with a pretty tablecloth, and put on some relaxing music. After dinner, make some popcorn together and throw on a movie you both love. If you can't find common ground, settle on a movie for each of you.
7. Play board games.
Don't want to cook? No problem. Order take-out from your favorite diner or restaurant and enjoy a night of board games. Or make up your own games.
Maybe you can create a financial game to see how much you know about saving and investing your money. After all this entire exercise is all about saving money.
8. Visit Glow Garden
This may not fit our 'free Valentine's Day celebration' theme entirely but you pay minimum for memory of a lifetime.
Dubbed 'the largest themed garden in the world', Dubai Garden Glow one of the newest attraction in the city and a place to visit.
Jumana says, "With the weather on our side it is the best time to visit the garden, which is spread across 40 acres, with 32 installations made by 150 artists.
From the moving dinosaurs to the talking tree and lit-up bugs, you will absolutely love it. When hungry head to the food trucks at the garden, including Wagah Cafe, which serves Indo-Pak kebabs and a wee food cart that sells momos (dumpling).
Like we said earlier the entry is not free. Admission to Garden Glow is Dh60 per person (children under three can enter for free).
Gate 6 and 7, Area B, Zabeel Park, 4pm to 11pm daily until April 2016 (may be extended until the start of Ramadan).
9. DIY gifts
Arrange a heart shaped photo display on a wall for your spouse or children. Pay special attention to color. You want it to look as visually appealing as possible.
You're never too old to play games and have fun. Take turns writing down love notes to each other on small pieces of paper.
Then hunt them down based on clues you give to each other. You can make this an event or simply hide them throughout the day for a surprise find when you least expect it.
Grab a couple of romantic poem books and spend a lovely evening reading each other #words of love. You'll probably find poems that will help you rediscover your love for each other or leave you creating a new bond over shared laughter at corny poems.
10. Celebrate the day before or after.
Mil has come up with a brilliant idea - You don't have to celebrate Valentine's Day on February 14; you could celebrate before or after.
It may be cheaper and less crowded to do so. There are chances that some restaurants may hike the price on Feb 14, so cash in before or after 14th. Plus, you won't have to fight the crowds or get frustrated trying to find a parking spot.
Remember that there's more to Valentine's Day than whisking the one you love away for a romantic getaways.
Whatever you do, irrespective of no fee, you'll still spend something.
Nisha comes up with a noble idea - "Why not cozy up on the couch, share a muffin over a movie and gift a phone card to one unfortunate person who's away from his Valentine?"
We like that!
Follow Emirates 24|7 on Google News.