15 simple but effective ways to make your small kitchen big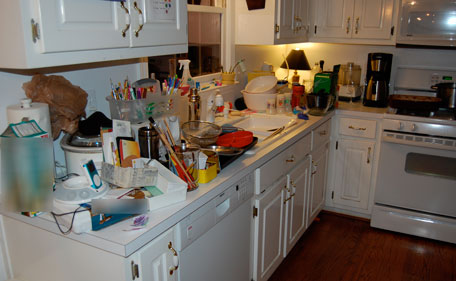 You do not like clutter and the chaos in your kitchen cupboards.
You always wish you had more space in your kitchen, but sadly that is not happening. A tiny kitchen so less desirable.
For urban living, apartment dwellers and small-home owners, the heart of the home can become the pain of your existence when space is at a premium.
But for new ideas to be born, there must be restraints, and a small kitchen is a great example of this.
These clever storage inventions and DIY (do it yourself) ideas will simplify your life.
1. Storing cans


Who says paper holders can only hold papers? Make use of your magazine racks and file holders to store cans.
2. Pile them up
Organize your pans and bakeware with a pan organizer. The stacking design creates additional storage in your kitchen to maximize cabinet space. Keeping pots and pans organized in the rack helps protect pans from scratching. See Here.
3. Trouble lids
This simple kitchen (or office!) organizer is perfect for tupperware lids. It doesn't quite fit pot lids because of the protruding handles, but works well for anything thin enough to fit in the gaps– plates, cookie sheets, mail, file folders, etc. See on Amazon.
4. Seal the lid
Don't want to buy an organiser to store lids? NO problem! Use an old dish drainer to store container lids like this.
5. Magnetic power
Make a spice rack out of a magnetic strip. Take those small bottles of spice out of your cabinet and make space for other items. You can do it yourself (DIY). See here how to do it.
6. Snacks holder
Shoe holders become excellent snack holders. Purchase an over the door shoe holder and use it to store snacks and other items that don't necessarily need to be kept in their boxes. Sometimes all those boxes take up way too much space so this solution was easy and pretty cheap. Hid them behind the door.
7. File holders
These foils, cling sheets and those butter paper rolls take a lot of drawer space. A vertical paper holder is good for storing aluminium foil, storage bags, or plastic wrap.
Mount it inside the cabinet door of your sink and save space. You can see it here.
8. Hang them
Hanging pots high on the wall saves major cupboard space.
Knife blocks are space suckers. A mounted knife rack, on the other hand, keeps your tools within reach — while at the same time tucked out of the way.
9. Make space
Don't forget the space above your cabinets.
If your kitchen cabinets don't go all the way to the ceiling, chances are that extra space on top of the cabinets is collecting dust.
You may need to cut a piece of plywood to set over the tops of your cabinets, line the area right underneath the ceiling with shelves.
10. Shelf basket
This basket helps utilize air space in your cabinets that would otherwise go empty! If you have a small kitchen or are just lacking cabinet space, this works nicely for wrap, tupperware lids, pasta boxes, and other misc. pantry items. I can also see this being used for paper in a craft or office closet. I'll bet you could even use it in your refrigerator! Amazon.
11. Clean up
Insert a rod under your sink to hang your cleaners from.
An extension rod, the kind that are sold to hold up shower curtains are a great hack to use the dead space under the kitchen sink, fit one in place and hang or hook spray bottles on to it.
12. Multi-Purpose Hooks
Use hooks to hold up pot lids on the inside of cabinet doors to maximize space and easily find all your lids. No more rummaging around in the back of the cupboard.
13. More storage idea
Use your backsplash to store things that would otherwise be taking up valuable counter space
Instead of placing everything (coffee can, sugar, butter, salt & pepper, cork screw, etc.) on the counter, keep the space free and use your backsplash as storage. This idea was found over at No.29 Design by Christina.
14. Love for shelf
Do it yourself - add a plank beneath your cupboard and maximise the space.
15. Hanging basket
Basket your fruit and vegetables and hang them up like here. Beauty with brain and adds such a cute touch to the kitchen.
Follow Emirates 24|7 on Google News.