Don't let Friday the 13th jinx your Valentine's Day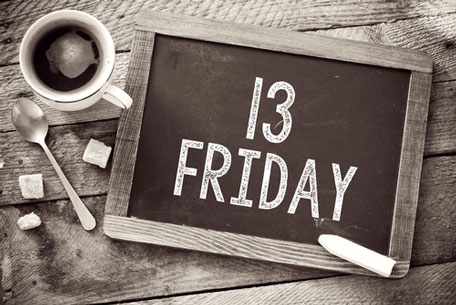 It's Black Friday, or Friday the 13th tomorrow, followed by Valentine's Day on Saturday, February 14. Ominous? You bet.

Of course it's superstition, but Friday the 13th is considered unlucky. Every time Friday the 13th comes around on the calendar, a lot of people are gripped by fear – the combination of sixth day of the Gregorian week and the number 13 have a foreboding reputation.

And there's a scientific term for it – the fear of the number 13 is called triskadekaphobia; and the fear of Friday the 13th is called paraskevidekatriaphobia.

The phenomenon happens at least once a year, but in 2015, this day will feature three times – in February, March and November.

And while there is no scientific evidence to the fear, it does result in commercial loss. Estimates suggest that nearly $1 billion of commerce is lost every Friday the 13th as a result of this phobia. That loss is bound to be higher if it happens to precede a commercial, marketing-driven festival such as Valentine's Day.

The Stress Management Center and Phobia Institute maintains that sufferers fear the consequences of even leaving their homes, desperate to avoid broken mirrors, ladders, and black cats. The Center says that about 17-21 million Americans are affected by the fear of Friday the 13th.

A 1993 study published in in the British Medical Journal, found that the traffic accident risk increases by as much as 52 per cent on Friday the 13th, compared to a normal Friday. Now that may be because people are distracted, or overcautious, or whatever, but if the results hold true, it may mean that a lot of people don't venture out tomorrow to buy gifts for their Valentine.

Nevertheless, there is no written evidence for a 'Friday the 13th' superstition before the 19th century. The earliest known documented reference in English occurs in Henry Sutherland Edwards' 1869 biography of Gioachino Rossini, who died on a Friday 13th.

While several theories exist about the origin of the superstition, most experts agree that this is a relatively recent correlation, and most likely a modern-day invention – like the commercialisation of the numerous holidays and festivals, including days like the Valentine's Day.

Many triskaidekaphobes, as those who fear the unlucky integer, point to the ill-fated mission to the moon, Apollo 13.

So, will this Friday the 13th jinx your Valentine's Day? Let us know in comments below.
Follow Emirates 24|7 on Google News.