I'm staying single: George Clooney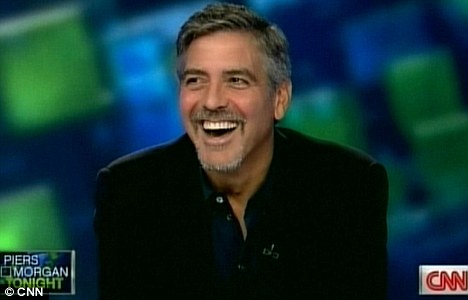 Elisabetta Canalis had better resign herself to being a plain old girlfriend. For actor George Clooney, whom she has been dating since 2009, has dismissed notions he may marry again someday.
"I hate to blow your whole news story," he told British talk show host Piers Morgan, adding that his four-year marriage to actress Talia Balsam (which ended in 1993) was enough. "But I was married, so I gave it a shot."
Clooney wouldn't answer when Morgan asked whether he would ever tie the knot again and swiftly changed the subject.
Although Morgan pointed out that George's father, Nick, a journalist who appeared on Friday night's CNN show with him, enjoyed 'one of the great marriages', Clooney didn't seem keen on the idea of tying the knot again.
Nick Clooney has been married to his wife Nina – George's mother – for more than 50 years and the couple renewed their vows in 2007. On air, he told his son: "I want you to think about that. I want you to think about - we've been married - Nina and I have been married 51 years."
Besides his love life, Clooney chatted with Morgan, who took over Larry King's popular nightly slot last week, about politics, his career and his current humanitarian work.
On his career, Clooney said he was grateful for his success, even though it had come relatively late in life.
"I was a struggling actor for a long time and before that I sold ladies shoes at a store called McAlpine's. Before that I sold insurance door-to-door - that was a fun job. I cut tobacco for a living and somewhere along the way I got lucky," he said, speaking of early struggles as an actor. "I did eight television series before ER hit and if we didn't get a Thursday night at 10pm time slot, you know, I wouldn't have the career that I have.
"I've got a very good life. I'm infinitely a lucky man."
During the hour-long interview, Clooney also revealed how he had contracted malaria for the second time while in Sudan, but reassured fans he is now free of the deadly disease. He joked, "Even with malaria, it's just good fun. I guess the mosquito in Juba looked at me and thought I was the bar."
He said his focus is now the situation in Sudan.
Follow Emirates 24|7 on Google News.