Mumbai taxi gets Jaguar-style revamp in Dubai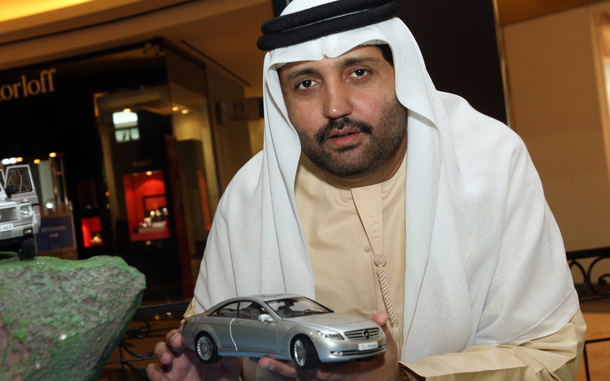 From a distance it appears to be your average Mumbai taxi, wearing its acidic yellow and black colours with pride, as a miniature Taj Mahal replica finds a perch on its polished dashboard.
Of course, as you cover the distance, the Jaguar parked in the glitzy corridors of BurJuman is a far a cry from the Marutis, Ambassadors and Fiats that serve as a transport lifeline for the bustling Indian metropolis.
But, if you're even more curious as to why a Jaguar, disguised as a taxi, has found its way into a Dubai shopping mall, then thank Emirati collector Suhail Al Zarooni for this mesmerising makeover.
Known for his two Guinness World Records for holding the highest number of model cars, over 9,000 at last count, along with 80 life-size cars, 18 out of 25 Princess Diana limited edition dolls and an ever-growing number of rare coins and stamps, Al Zarooni returns with his wonders for the sixth year as part of The Collectors Exhibition for the Dubai Summer Surprises.
"This year, I took world taxis as a central theme that plays ode to an essential fabric of our society," Al Zarooni told Emirates24|7, pointing to what appeared to be a 1974 classic Rolls Royce disguised as a classic cab that could easily be pictured kicking up dust on a barren desert highway nearly 30 years ago.
"My idea is to display something new every time, follow a theme that shows a different aspect of what I behold. And this year, it was either taxis or centering the theme around police cars, which would not have been an easy job to put together last minute," came the laughing response.
There are nearly 30 cars on display at the mall until July 24. Several models of Mercedes, from classics to contemporary to customised versions, underscore Al Zarooni's love for the German car.
"I have a close relationship with Gargash Enterprises, who are the distributors of the brand here. Every time they hear about a special model available in the market that would interest me, they don't hesitate in informing me about it," he said.
Otherwise, the jet setter won't hesitate in boarding a plane heading for the other end of the world to acquire a rare poster if need be. But even he's discovered the value of eBay.com these days.
Al Zarooni was once tagged as the "five-million dollar man" for his collection – which should have tripled by now. However, quiz him about his investment and the Emirati simply shrugged in response.
"I invest in my passion. How do you place a value on this?" he said, adding: "However, I do try to maintain a monthly budget for my acquisitions but this is not just any investment meant for monetary gains. My goal is to create a heritage for this country, one that can be enjoyed by future generations."
The father of five says his children share his hobby for collecting. "Every time they head to McDonalds, the return with the Happy Meal toy cars and add it to my model car collection," he said. "But they realise, the legacy that I have painstakingly put together is not a thing to play with. They realise its importance and its historical value.
"I am in the process of building a museum as an extension to my home, which will be open to family, friends and those who share an interest in what I do. One day, my children will carry this dream forward," he stated.
Now, Al Zarooni is attempting to set a new Guinness World Record for the UAE and is asking the community to pitch in to build the largest collection of coffee mugs. The Emirati wants to possess thousands of unique mugs bearing any brand logo, message, look or style.
He has already set the ball rolling with the 100-odd mugs collected from Starbucks outlets worldwide. "I want the rest of the city to help put the country on the map once again. I hope we can do this together."
Follow Emirates 24|7 on Google News.