Mercithon' to raise Dh650k for cancer patients of 6 nationalities on February 24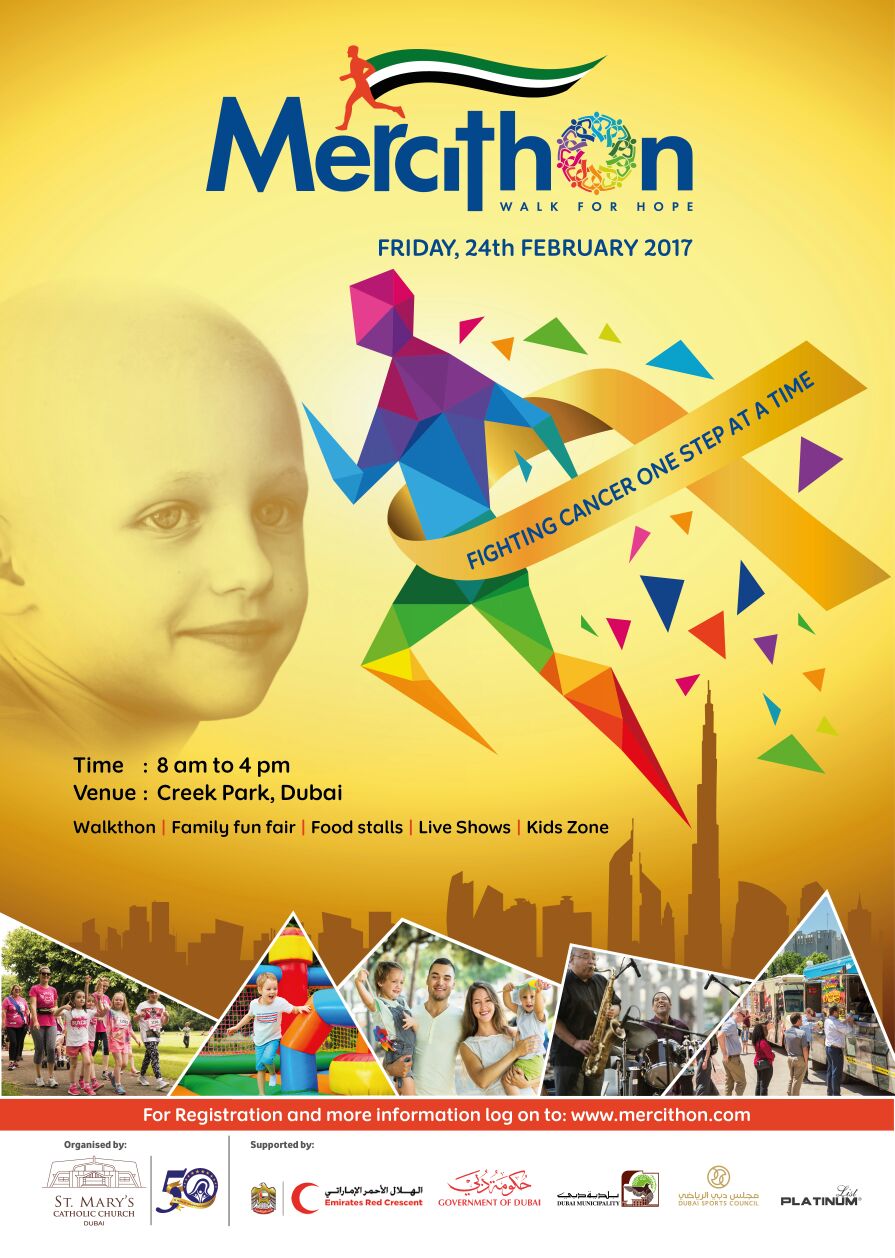 The unique day-long walkathon will take place at Creek Park as part of golden jubilee celebrations of St. Mary's Catholic Church, Dubai
In a unique humanitarian fund-raising initiative, a walkathon will raise Dh650,000 for six cancer patients of different nationalities in Dubai's Creek Park on February 24.
The event labelled 'Mercithon' (Walk of Mercy) is being organised by St. Mary's Catholic Church, Dubai, as one of the activities of its golden jubilee celebrations, approved by the Islamic Affairs & Charitable Activities Department, and supported by the UAE Red Crescent and Dubai Municipality.
Over 10,000 people are expected to attend the charity event that will raise funds for a full year's treatment of six cancer patients from economically weaker sections, belonging to nationalities of Pakistan, Philippines, India, Syria, Morocco and Lebanon.
According to Rev. Fr. Lennie Connully, Parish Priest of St. Mary's Church, Mercithon is an extension of the Catholic Church's Year of Mercy (2016) program and also blends wonderfully into the UAE's Year of Giving declaration.
"Caring for others without discrimination on grounds of nationality and religion has been the core tenet of Christianity, and we are happy to demonstrate this by organising this charity event to mark 50 years of St. Mary's Church," commented Fr. Lennie.
Mercithon is our way of engaging our community in serving the poor and the sick, which forms the central pillar of our faith, as reiterated by His Holiness Pope Francis in his homilies."
"We are also happy to be inspired by the vision of the UAE leaders, including the President Sheikh Khalifa Bin Zayed Al Nahyan and Sheikh Mohammed Bin Rashid Al Maktoum, UAE Vice President & Prime Minister and Ruler of Dubai, who have stood out as epitomes of generosity, over the years. The Year of Giving 2017 is a further endorsement of their commitment to humanitarian causes and religious tolerance," Fr. Lennie added.
Mercithon will be organised by the youth of St. Mary's Church at Creek Park on February 24 from 8 a.m. to 4 pm in a carnival atmosphere, featuring fun events, rides, games, food stalls, cultural activities, celebrities, music performances and raffle draws.
"We are seeking corporate support for raising the targeted amount for the treatment of the six cancer patients. We are sure that companies and organisations will be generous in extending their support for this worthy cause. As cancer treatment is an on-going expense, we plan to make this an annual event on the church calendar in order to help needy people round the year," said Fr. Lennie.
The recipients have been selected on the basis of their inability to pay for regular cancer treatment. Among those who will benefit are Adam Kassem, a three-year-old boy suffering from leukemia, who needs Dh250,000; Sousd Horre, a 44-year-old Moroccan woman suffering from ovarian cancer, who needs Dh40,000; Seema Khalid, a 47-year-old Pakistani woman suffering from breast cancer, who needs Dh65,000; Rabiha Kanbarhi, a Syrian senior citizen suffering from breast cancer, who needsDh75,000; Marites Trinidad Macapallag, a 37-year-old mother suffering from breast cancer, who needs Dh28,000; and Krishnapriya Ayillath, a 35-year-old Indian woman suffering from breast cancer who needs Dh76,000.
St. Mary's Catholic Church has been actively supporting the treatment of cancer patients for a long time.
This is the first organised fund-raising activity that will ensure that cases of needy cancer patients are highlighted and they get regular financial support for their treatment, including chemotherapy and surgeries.
Follow Emirates 24|7 on Google News.