Miss Universe: Philippines misses; Mary Jean to break jinx?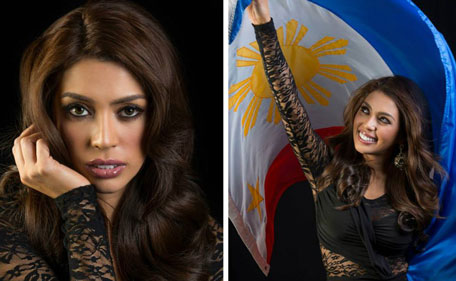 The runner-up streaks of the Philippines' delegates from 2010 to 2013 at the Miss Universe pageant is heartening and hard not to notice.
Last year, Miss Venezuela, Gabriela Isler, was crowned Miss Universe 2013 in Moscow in a glittering ceremony.
Isler, in a silver Rhine-stone studded evening dress waved, blew kisses and sobbed after winning the crown.
Miss Philippines Ariella Arida, Saturday, Oct. 26, 2013. (AP)
But it seems, 3rd runner-up, Miss Philippines Ariella Arida emerged as the winner among fans that year.
It is also the fourth consecutive year that a Filipina has made the Miss Universe Top 5.
Miss Philippines, Janine Tugonon, stands on stage during the 2012 Miss Universe Pageant at Planet Holywood in Las Vegas, Nevada on December 19, 2012. Eighty-nine countries and territories are participating in this year's pageant. (AFP)
In 2012, Janine Tugonon emerged first runner up at the Miss Universe 2012 Christmas-themed pageant that took place at the Planet Hollywood Resort and Casino in Las Vegas, Nevada.
According to social media commentators Janine gave the best reply and was the more deserving one then Miss USA Olivia Culpo.
Mary Jean Lastimosa, Miss Universe Philippines 2014.
There was uproar in social networking sites after Janine was declared 1st runner-up. Many claimed that the results were rigged.
This year hopes are pinned on Mary Jean Lastimosa to break the jinx.
Considering the good run Filipina beauties had in the past, it is inevitable to consider Lastimosa has a good chance of making it to the Top 5.
Miss Philippines.
Lastimosa, 24-year-old is a graduate from Ateneo de Manila University and was working as a technical assistant of the executive director at the humanitarian organization Community and Family Services International.
Philippines-raised beauty queen is creating a lot of noise on social media. And fans are rooting for her to win it this time.
Mary Jean Lastimosa, Miss Universe Philippines 2014.
But it is worth mentioning that fan support and popularity is not the imperative factor to win the title. The over-all performance of the contestants, the Q&A rounds and a massive impact on the sponsors do the trick.
The 63rd Annual Miss Universe Pageant is fast approaching as 88 candidates from all around the globe fight to win the crowning glory.
Miss India
It has been six straight years when Asia missed out on the title and Riyo Mori from Japan was last crowned Miss Universe 2007 in Mexico.
Speaking of Asians, it looks as if the owner of the coveted Miss Universe pageant, Donald Trump is betting India's gorgeous Noyonita Lodh win this time.
Trump tweeted wishing Noyonita Lodh - his 'stunning friend' - to get India's 3rd Miss Universe crown.
Donald Trump tweets, "@Shinatasangh: My stunning friend @NoyonitaLodh Miss India hope she gets 3rd @MissUniverse crown 4 India @LaraDutta".
Miss Indonesia
Miss Indonesia Elvira Devinamira's name also features in the list of frontrunners.
Moreover, Pimbongkod Chankaew from Thailand has a strong social media presence.
Miss Thailand
Meanwhile, Paulina Vega, the Barranquilla, Columbia-raised beauty queen, is one of the Latina frontrunners.
Other candidates who might make the cut are Desiré Ferrer Cordero (from Spain), Andjelka Tomasevic (from Serbia), Nia Sanchez (from USA), and Yulia Alipova (from Russia).
Mary Jean Lastimosa, Miss Universe Philippines 2014.
Miss Universe 2014 will air this Sunday, January 25 from FIC Arena Doral, Miami.
Keep following Emirates 247 for all the latest news from Miss Universe 2014 pageant.
Follow Emirates 24|7 on Google News.