Mona Al Marri officially opens Middle East Film & Comic Con 2018 at DWTC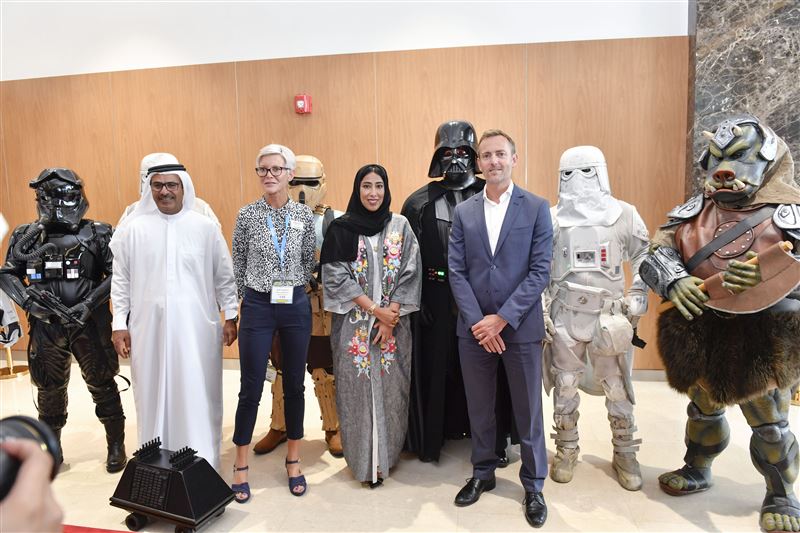 Director General of the Government of Dubai Media Office (GDMO) Her Excellency Mona Ghanem Al Marri today officially opened the Middle East Film & Comic Con (www.mefcc.com), the definitive pop culture festival in the Middle East. The festival runs from 5 -7 April at the Dubai World Trade Centre (DWTC).
The opening event was also attended by HE Mohamed Khalifa Al Mubarak, Chairman of the Department of Culture and Tourism in Abu Dhabi and HE Saif Saeed Ghobas, Director General of the Department of Culture and Tourism in Abu Dhabi. Peter Hall, President of Informa Global Exhibitions, EMEA and Suzy Pallett, Consumer Group Director of Informa led the dignitaries on a tour of the event.
The next two days are set to host a packed agenda of celebrity meet and greets, performances, cosplay, gaming, workshops, screenings, artists and exclusive merchandise that are bound to surprise and excite fans. Tickets can be purchased online on www.mefcc.com and at the door.
The stellar line-up of celebrities this year include Ezra Miller aka The Flash in the DC universe; Jenna Coleman aka Clara Oswald in Doctor Who; Toby Stephens (John Robinson), Molly Parker (Maureen Robinson), Mina Sundwall (Penny Robinson), Taylor Russell (Judy Robinson) and Max Jenkins (Will Robinson) from the new Netflix original show, Lost in Space; Karl Urban, one of the most recognizable faces in Hollywood after starring in blockbusters such as the Star Trek Trilogy, Lord of the Rings, Riddick and Thor: Ragnarok; Kristian Nairn aka Hodor from Game of Thrones; Jason David Frank aka the original Green Power Ranger, and Adam Kubert, a true comic book royalty famous for his run on Wolverine, Weapon X, The Incredible Hulk, Ultimate X-Men, and Spectacular Spider-Man.
Other celebrities that have been proving extremely popular across fans in the region are international cosplayer Alodia Gosiengfiao; Overwatch actor Gaku Space; Final Fantasy XV's Ray Chase; Street Fighter's Christian Howard who plays Ken Masters; Spiderman's Max Mittelman who plays Harry Osborn; voice over artist Robbie Desmond, and TV presenter and video gaming extraordinaire Adam Savage.
Guests have a number of opportunities to meet them, ask them questions and even learn from them through various activities spread across all three days. For more information, visit the Celebrities page of MEFCC.
Performances on the WAVO Main Stage include the Illusionists show "7th Delusion: Mesmerising Minds." Hamza3ssam along with Minat and Don Kamelo bring their infectious hip hop beats to the stage for an energetic live performance while the Naser Mestarihi band presents their rock 'n' roll performance.
At the Party Monsters Family Rave, children can enjoy tunes from DJ Trina and the multi-award winning Universal signed band, The Boxtones. Some of the most talented cosplayers in the region will compete in the Huawei Nova 3E Cosplay Contest. For further details, visit the WAVO Mainstage website.
Each day at the festival, visitors can attend a series of workshops and presentations run by renowned names. Get Simpson-ized on Friday and learn the art with maestro Phil Ortiz and on Saturday, learn Cosplay and video creation with Alodia Gosiengfiao. For the full schedule, visit the Workshops section.
The ROXY Cineclub brings the region's first boutique Comic Con cinema experience. Visit Hold the Door for a conversation with Kristian Nairn at 12:30 pm. The first episode of Netflix's Lost in Space will be screened at 2:00 pm ahead of its airing around the world on April 13th. Visitors can also catch voice actors Ray Chase, Max Mittelman and Robbie Daymond as they mix it up in what's set to be the most hilarious panel of the year at 4:30 pm. You can find out more from the ROXY Cineclub section.
Tickets for Middle East Film & Comic Con are available online on www.mefcc.com as well as at the door.
Follow Emirates 24|7 on Google News.