NBAD Etihad Guest Co-brand products takes you further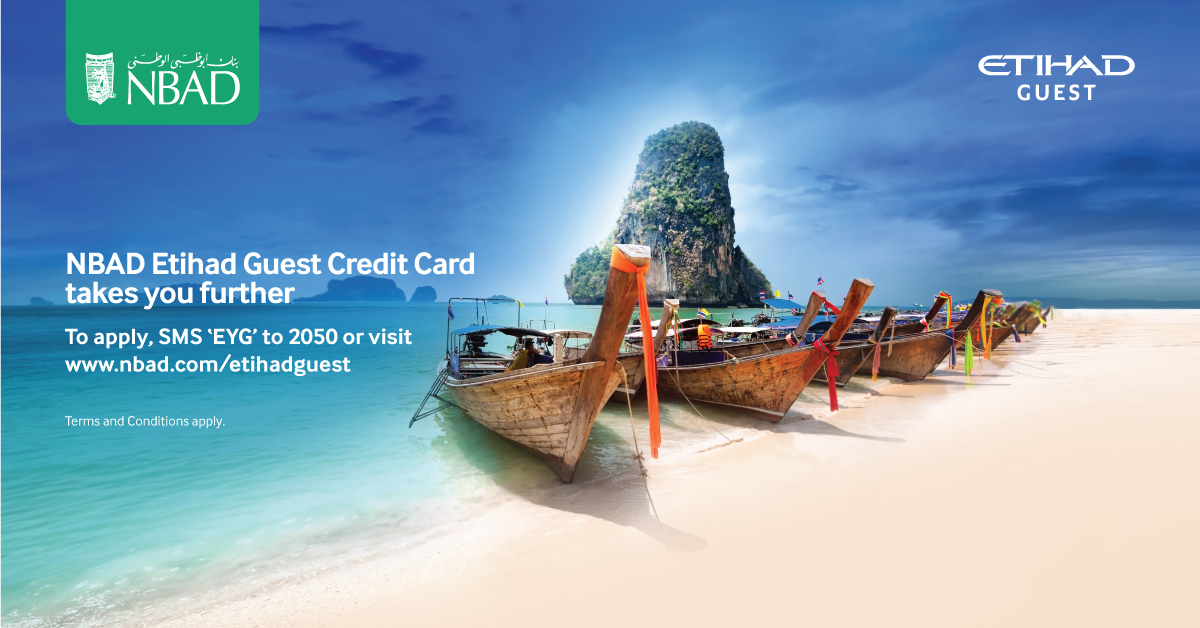 National Bank of Abu Dhabi (NBAD), the largest bank in the UAE by assets, and Etihad Guest, Etihad Airways' award-winning loyalty program, have partnered to launch a range of co-branded banking products that provide exclusive travel and lifestyle benefits.
The programme is the first of its kind in the UAE to offer Etihad Guest Miles across a range of retail banking products and transactions.
Products include not only co-branded credit and debit cards, but also co-branded accounts and loan packages, giving customers the opportunity to earn Etihad Guest Miles on multiple occasions.
The co-brand benefits go beyond just earning Miles. NBAD Etihad Guest Credit or Debit Cardholders can enjoy a 10% discount on Etihad Holidays every time they book a holiday package through the Etihad Holidays website while the Credit Card also offers exceptional travel and lifestyle benefits such as up to 75% miles discount on Etihad Airways flights, fast track upgrade to Etihad Guest Gold Status, airport lounge access around the world, airport transfers, meet and assist service at the airport, free in-flight Wi-Fi vouchers and complimentary travel insurance.
As a special launch offer, customers who apply for the NBAD Etihad Guest Credit Card before 15th May 2017 can earn double joining miles.
This means customers can earn up to 110,000 joining miles when they apply for the Infinite Credit Card.
The range of products really is ideal if you're looking to rack up a lot of Etihad Guest Miles.
Such as, NBAD Etihad Guest Accounts offers up to 1,000 miles on first salary transfer and also additional 750 miles on the first purchase with NBAD Etihad Guest Signature Debit Card. Also you earn up to 3 miles for every Dh1,000 of average balance in your account. Moreover, you also earn up to 3 miles per Dh10 of purchase using the NBAD Etihad Guest Debit Card.
Finally, even the Etihad Guest Loans offer opportunities to earn miles. The NBAD Etihad Guest Personal Loan gives you 500 Etihad Guest Miles for every Dh20,000 you borrow, while the NBAD Etihad Guest Auto Loan earns you 350 Etihad Guest Miles for every Dh20,000 you borrow.
And the NBAD Etihad Guest Mortgage Loan gives you 1,000 Etihad Guest Miles for every Dh50,000 you borrow, plus additional 10,000 Etihad Guest Miles on Mortgage loan anniversary too.
Want to know more? Click here apply for an NBAD Etihad Guest product!
Follow Emirates 24|7 on Google News.