Nine designers vie for spot on Oscar stage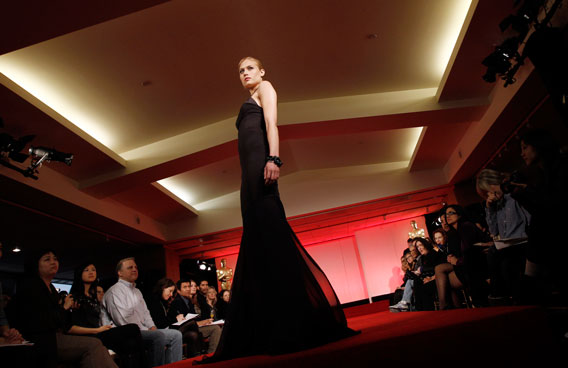 Nine fashion designers need your help to make their Oscar dreams a reality.
The Academy of Motion Picture Arts and Sciences is again hosting its Oscars Designer Challenge, where emerging fashion designers can win a chance to have one of their original gowns worn by a trophy model during the Academy Awards telecast.
Oscar fans and fashionistas can see the dress contestants online and vote once daily for their favorite until Monday. The winning gown - and the model wearing it - will appear onstage during the Oscar ceremony.
Designer Clay Sadler said seeing his floor-sweeping, cream-colored creation on the big show "would be a lifelong dream."
"Even as a child, I would watch the Oscars and say, `One day I will have a dress on that stage,'" Sadler said Tuesday after displaying his dress alongside those of the eight other contest finalists at a fashion show at academy headquarters.
Now in its third year, the Oscars Designer Challenge puts a glamorous aspect of the show directly into fans' hands and gives up-and-coming fashion designers unprecedented exposure, said coordinator Toni Pickett.
Pickett's team perused sketches submitted by more than 30 designers to select the nine finalists vying for Oscar's spotlight.
"For those who don't have the ability to contact celebrities, this can help springboard them to the next level," she said, adding that one of last year's finalists, Oday Shakar, went on to design the black, backless dress Sandra Bullock wore to the 2010 MTV Movie Awards.
"It was her comeback dress," Pickett said. Shakar was discovered by the star's stylist through Oscars Designer Challenge.
This year's contestants come from all over the country, and their submissions range from simple and sleek to bold and dramatic.
One body-skimming black gown, designed by James De Colon, looked like it was made of liquid metal, with feathers covering the neckline and forming a little tail in back.
It wasn't the only black, feather-trimmed design. Chicago-based Borris Powell said he was inspired by the Oscar-nominated film "Black Swan" to create his asymmetrical satin dress decorated with 25 hand-stitched feather pinwheels.
Natalia Romano was inspired by the Oscar statuette itself. The 22-year-old designer, who also has a ready-to-wear collection, submitted a gold mermaid gown adorned with taffeta petals from shoulder to hem.
"It's an honor just to be nominated," she said of participating in the design competition. "To be chosen would mean I have a global platform to show my talent."
Angela Avanesyan, 23, said she also hopes being a part of Oscars Design Challenge will help her get noticed. Inspired by nature and the way rocks look after it rains, she created a silvery strapless gown with crystal beading at the bust and strips of color in shades of gray at the hem.
Another young designer, Katelyn Bischof, who recently graduated from New York's Fashion Institute of Technology, created a one-shoulder silver confection trimmed with gold appliques and finished with a bold chiffon bow.
Other contestants submitted more straightforward designs. Sadler's dress, which he called "Harlow," was made from flowing silk charmeuse, with tiny rhinestone details on the straps.
Model Lisa Malambri called it "simple yet elegant."
Designer Octavio Carlin used plum silk chiffon to create his sleek submission: A draped, body-hugging gown with a flowing skirt. He said he chose the color because it goes well with Oscar gold, and he shaped the silhouette with Oscar-winner Nicole Kidman in mind.
One sleek black dress had silver beading on the bodice and an asymmetrical leather strap. Another beige creation was trimmed with natural mica minerals.
The winner of Oscars Design Challenge will also be invited to attend the show, but no word yet on what they'll be wearing.
The 83rd annual Academy Awards will be presented Feb. 27 at the Kodak Theatre and broadcast on ABC.
Follow Emirates 24|7 on Google News.