Pakistani students form human shield for Hindus celebrating Holi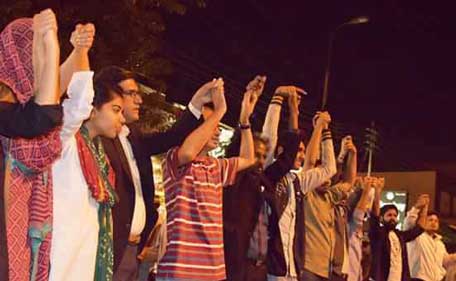 Members of a Pakistani student group, the National Student's Federation, formed a human shield around Hindus celebrating Holi (festival of colour) at the Swami Narayan Temple in Karachi.
According to a report in Dawn, the NSF formed a symbolic protective shield around those celebrating the festival with the intention of showing solidarity with the religious minority in their country.
The demonstration is an attempt to promote interfaith co-existence and cooperation among different religious and ethnic groups in Pakistan.
The NSF leveraged social media to spread information about the event, extending e-invitations to others who share their outlook on religious tolerance and wish to participate in the demonstration.
Hindus, who make up almost 2 per cent of Pakistan's population of around 180 million, are the largest minority in the country. Most of them live in the country's Sindh and Punjab provinces.
Prime Minister Nawaz Sharif also greeted Pakistani Hindus on Holi.
In his Holi message, Mr Sharif said that all communities are entitled to equal rights and privileges in Pakistan. Shairf described Holi a colourful occasion symbolising verve and energy of life celebrated by the Hindu community, PTI reported.
Follow Emirates 24|7 on Google News.