Parks, playgrounds revamped around Abu Dhabi Corniche Lake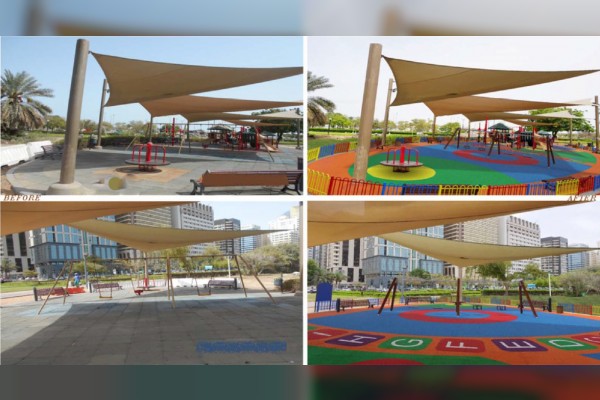 The Abu Dhabi City Municipality, ADM, is currently implementing a project for the maintenance and the rehabilitation of parks and children's playing areas in Abu Dhabi's Corniche, at a cost of AED8.5 million.
According to a press statement, the project aims to provide a comfortable environment to the public by revamping all playgrounds allocated for different age groups in view of the municipality's commitment and objectives to improve public health and athletic standards. It reflects the keenness of the Department of Urban Planning and Municipalities to accommodate recreational spaces for families and children.
The renovation works include the maintenance of play areas according to the security and safety standards for all age groups, replacement of non-functional playgrounds and equipment, and the replacement of rubber paving with rubber flooring. The municipality will also be repairing lighting systems, replacing solar panels and implementing agricultural works enhancing the appearance of the parks.
ADM has specified playground locations and examined their condition in the first phase of the project. The first location was nominated to the public parks of the Abu Dhabi Corniche as they are considered as one of the most important tourist destinations in the capital, receiving numerous residents and tourists from Abu Dhabi and its outskirts. The Corniche extends from Zayed Port to the Breakwater, and the play areas to be refurbished are in the Heritage Park, Formal Park, Lake Park, Family Park (A-B).
The project is expected to be completed by November 2018.
Follow Emirates 24|7 on Google News.