Poland aims to boost tourism at Hitler's WWII lair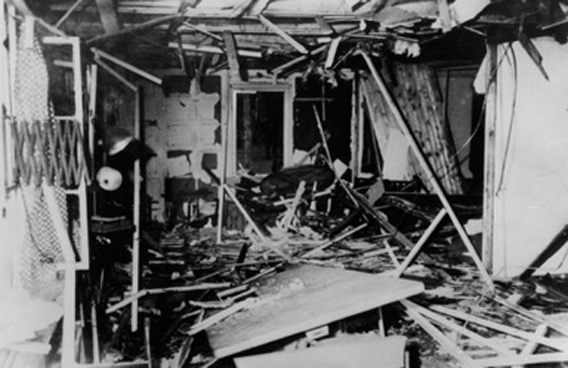 Polish authorities said Monday they plan to boost tourism at Nazi German dictator Adolf Hitler's "Wolfsschanze" (Wolf's Lair), which ended up on their territory after post-war border changes.

Artur Kurek, a senior official of the Polish forestry office, told AFP it would invite tenders to run the 250-hectare (618-acre) site of Hitler's former command headquarters near Ketzryn in northern Poland.

"The new contract will include clauses obliging the management to draw children, as much as history buffs," said Kurek, whose office is in charge of the tendering terms.

"We don't want tourists to be coming just for a couple of hours," he added.

Lying overgrown in a forest, the ruined concrete bunkers offer a chilling reminder of World War II, when Hitler turned his darkest dreams into reality.

The Wolfsschanze served as his command complex for much of the war, and is best known as the site of the failed July 1944 bomb plot against him by members of the German military.

It was located in East Prussia, a region awarded to Poland under the border changes that followed the Nazis' crushing 1945 defeat.

The Polish state opened it to the public as a testimony to the Nazis' crimes. In 1993, four years after the fall of Warsaw's communist regime, the authorities devolved the management to Polish investors.

The site currently draws between 180,000 and 200,000 visitors a year, but officials estimate that a seven-million-zloty (1.6-million-euro, $2.0-million) upgrade could raise the number by 20 percent.

The Wolfsschanze was the largest of 10 command bases used by Hitler across Germany and occupied Europe after World War II began with the Nazi and Soviet carve up of Poland in September 1939.

It was from here that he steered the brutal Nazi assault on the Soviet Union after turning on his erstwhile ally.

He arrived at the site on June 24, 1941, two days after the attack began. He left only on November 20, 1944, as the Soviets rolled back his forces.

In early 1945, as Soviet troops edged ever closer, German sappers used around 10 tonnes of explosives per bunker to try to destroy the site.
Follow Emirates 24|7 on Google News.