Russia's police models new designer look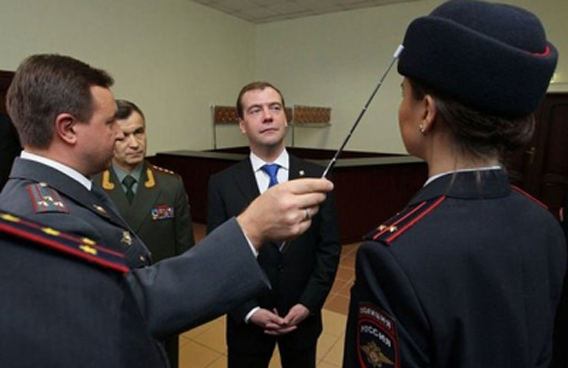 Russia's little-loved police service will throw off its shapeless grey uniforms and get a new designer look, including baseball caps, the interior ministry said Wednesday.

Police officers modelled the new-style uniform at a presentation in the ministry, which has earmarked 12.3 billion rubles ($415.86 million) to reequip 70 percent of the force in the next two years.

Instead of shapeless grey jackets and trousers and grey caps with gold braid, policemen will get sharper tailored navy blue uniforms containing Lycra, with the option of a baseball cap instead of a military-style cap or fur hat.

"We plan a gradual changeover to the new uniform. First of all it will be supplied to the police who protect public order," said deputy interior minister Sergei Gerasimov.

He said the change from grey to navy blue was a return to Russia's pre-revolutionary period, when its police also wore the colour.

President Dmitry Medvedev has looked over the uniform, giving his verdict: "I like it."

The redesign was overseen by renowned fashion designer Igor Chapurin, who has shown collections at Paris fashion week, as well as the costume designers at the country's biggest film studio, Mosfilm.

Controversially, another prominent Russian designer Valentin Yudashkin rolled out a new uniform for the armed forces last year prompting a chorus of complaints that it was ineffective at keeping out freezing winter cold.

The bloated, low-paid police service is going through a makeover to improve its image after a series of scandals including an off-duty officer in Moscow who went on a shooting spree in a supermarket, killing two and wounding seven.

In a much mocked measure, the police has been renamed from "militsiya" to the more European-sounding "politsiya", in a cosmetic move that required repainting all the police cars.
Follow Emirates 24|7 on Google News.