Tea lady's journey from Sudan to White House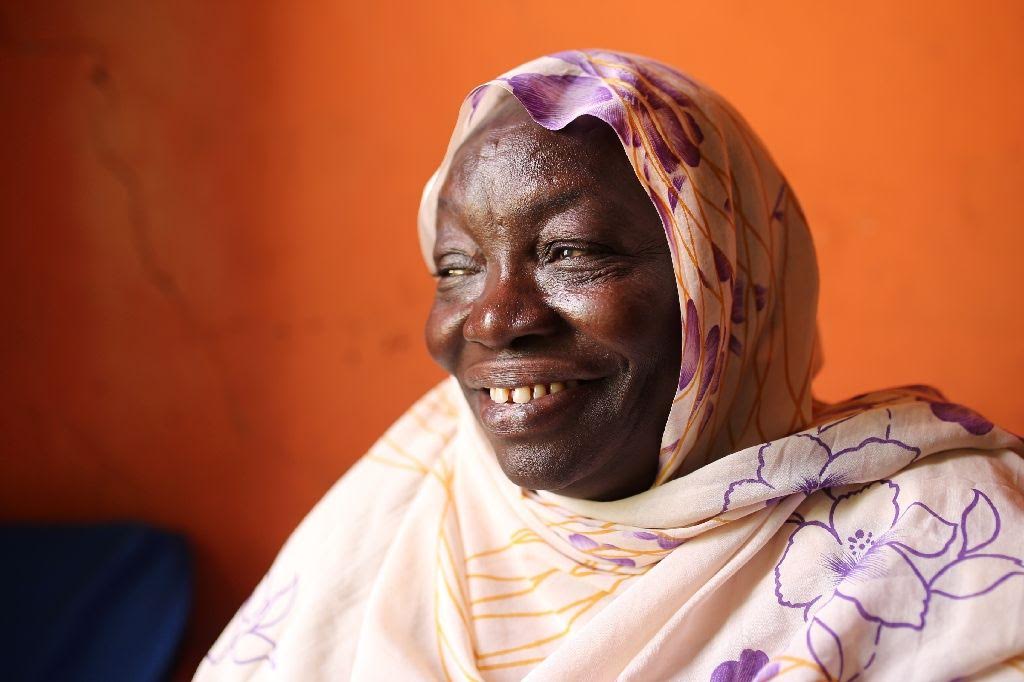 Through 20 years' selling tea by searing-hot Khartoum roadsides, Awadeya Mahmoud dreamed of improving conditions for her co-workers, mostly from conflict-hit areas like herself, but never imagined it would lead to the White House.
But for struggling to improve conditions for impoverished women selling tea and food from stalls across the Sudanese capital, Mahmoud received a "Woman of Courage Award" from US Secretary of State John Kerry in Washington last month.
"I was overjoyed when I received the prize," Mahmoud said after a 10-day visit to the United States to collect her prize.
Kerry hailed her "steadfast efforts to promote legal reform and to advance economic empowerment for women in Sudan".
True to form, Awadeya was back at work in one of the small cooperatives in Khartoum's Souq Shaabi area immediately after returning from the US, giving legal aid to women facing harassment from the police and social stigma.
The dirt courtyard covered by a tin roof was festooned with banners of her in floral traditional robes receiving her prize from Kerry and she hopes to use the publicity to expand the network of cooperatives across Sudan.
"This work isn't just in Khartoum, it's in all areas of Sudan," she said.
Thousands of women -- many displaced by protracted conflicts in Darfur and South Kordofan regions - sell tea and simple meals by Khartoum's roads for as little as 50 SDG per day ($4 according to the black market exchange rate).
Working unaccompanied, they are stigmatised in socially conservative Sudan and face sexual harassment.
They also work in fear of Khartoum's municipal police, who can confiscate their stalls, demanding to see permits to work and cards proving they have no infectious diseases and imposing fines of several hundred Sudanese pounds.
Awadeya spent two decades selling hot drinks from behind a small tin stall, under the beating Sudanese sun.
'Decent ladies'
Born in 1963, her family moved to Khartoum from the conflict-hit South Kordofan region when she was a young girl.
After marrying, she started working in 1986 to support her young family in the only trade available to a woman of her background with only a basic education - selling tea.
"We sat all day under the heat of the sun and there were no bathrooms for us to use," she said.
Recounting hard years working as a tea lady as she sat in her cooperative, she constantly stopped to offer visiting members breakfast or - of course - tea and coffee served from a stand in the courtyard.
Her warm demeanour belied her steely determination to improve the lives of her fellow tea sellers and food vendors.
In 1990, Mahmoud helped to start a cooperative in the Hajj Yousif area of the city, home to migrants from the Nuba Mountains area.
In return for a small subscription, the group offered legal support, sending members with legal training from NGOs to help return confiscated equipment from the police.
They soon opened more branches, with hundreds of women joining, and also offered training in other skills.
But in 2006, she and several other leaders in the cooperative were jailed for four years over an investment the women became involved in that left them heavily indebted.
Undeterred, she resumed work in 2010 and even became head of a network of cooperatives of some 8,000 women across Khartoum.
Laughing with two of her colleagues in the cooperative in Souq Shabi as one brewed a pot of fresh coffee spiced with ginger, she said hopes her award will boost the image of Sudan's humble tea lady.
"Society looks at tea sellers negatively, but this is unfair. Tea ladies are decent women".
Follow Emirates 24|7 on Google News.