Teenage beauty queen dies during liposuction operation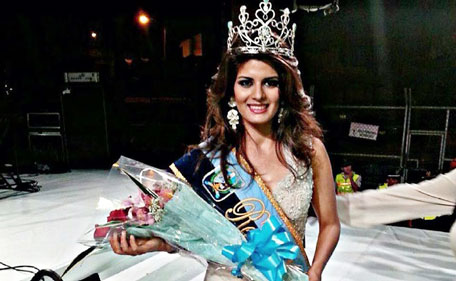 Catherine Cando, a 19-year-old Ecuadorian beauty queen, died on the operating table from a botched liposuction procedure, Fox News Latino reports.
The medical student and part-time model won the procedure, along with a car and a tablet, when she was crowned Queen of Durán in October.
Facebook
After winning the title, Cando reportedly tried to lose supposed 'excess' weight through diet and exercise and said she didn't plan on taking up the pageant judges on their liposuction offer, telling Ecuadorian paper El Telégrafo that she didn't think she needed it and she didn't want to do it.
Miss Canto put off the treatment as she felt she didn't need it - despite judges in the competition recommending she lose a bit of weight.
Facebook
Her brother Daniel Zavala, 24, told local media: 'Before having the surgery, she received a lot of calls from the surgeon trying to persuade her to do it, but she kept saying no.
'She was thinking about letting someone else have it as a freebie but eventually she agreed to have it just get him off her back.'
According to Ecuadorian newspaper El Telegrafo, she eventually underwent the procedure at a private clinic on January 10 - with tragic consequences.
Facebook
The stunner, who was reportedly also training to be a doctor, died during the operation, but the exact cause of her death is yet to be determined.
The staff at the center where Cando was undergoing surgery told her family that she died of cardiac arrest, but the family's lawyer was given conflicting information.
"I was told she had died of a brain edema," said lawyer Carlos Reyes Izquierdo. "I have ordered cytological and pathological examinations to find out what exactly happened."
The surgeon who operated on Cando has been arrested on charges of negligence, reports news.com.au.
The tragic death follows that of Brazilian model Pamela Nascimento, 27, who also died during liposuction surgery in 2011.
The cause of her death was registered as hypovolemic shock, where severe blood loss makes the heart unable to pump enough blood to the body.
The perils of cosmetic surgery have also been in the headlines more recently, with Andressa Urach, 27, runner-up in the 2012 Miss Bumbum competition, ending up in intensive care after her surgery wounds became infected.
Follow Emirates 24|7 on Google News.