The world's oldest bread reveals the richness of our past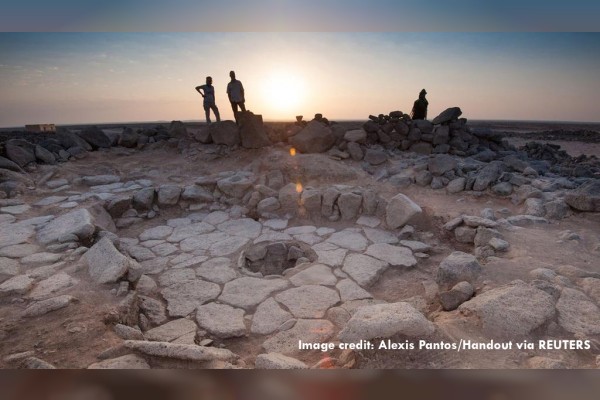 About 14,000 years ago, long before humans had developed agriculture, bread was being baked in the Middle East, The National said in an editorial on Wednesday.
"This astonishing discovery in northeastern Jordan significantly alters our ideas about the history of the most widely consumed food on earth. Charred remains of bread scooped up by researchers from a Neolithic fireplace at a Black Desert archaeological site and examined with an electron microscope have yielded information that illuminates the origins of what can fairly be described as a distinct cuisine and the earliest known forerunner to multigrain bread," the paper added.
The English language daily went on to say that a thick paste of flour made from wild barley and wheat was mixed with the roots of plants and heated to create unleavened flatbread, which was then likely used to wrap roasted meat from birds or animals that had been trapped for a feast. "Bread of this kind, rather than having resulted from a well-developed farming culture, may in fact have been the spur for the development of farming.
"Thousands of years later, bakers in Egypt made the discovery that leaving dough to ferment produced gases that expanded the loaf as it was exposed to high temperatures. This triggered the commercial production of yeast for breadmaking – and a light, fluffy alternative soon appeared alongside the old unleavened flatbread. Part of the reason for the popularity of bread in societies that had been accustomed to gruel and porridge was its mobile nature. It was the easiest lunch to pack long before the 18th century aristocrat John Montagu, the Earl of Sandwich, decided to place slices of meat between two pieces of bread or Otto Rohwedder invented the mechanised bread slicer in 1917," it continued.
"Today bread, in its myriad forms, is the most ubiquitous item of food in the world. Its origins, however, lie firmly in this region. The Middle East, a cradle of the earliest human civilisations, continues to enthral us with new revelations about our history. The discovery last month of an 8,000-year-old village on Marwah Island, revealing a highly sophisticated settlement, completely upended notions about how the region's ancestors lived. The fascinating findings in Jordan are part of an extraordinarily rich past that resides under our feet," the Abu Dhabi-based daily concluded.
Follow Emirates 24|7 on Google News.