These Hijab wearing Barbie dolls are Instagram sensation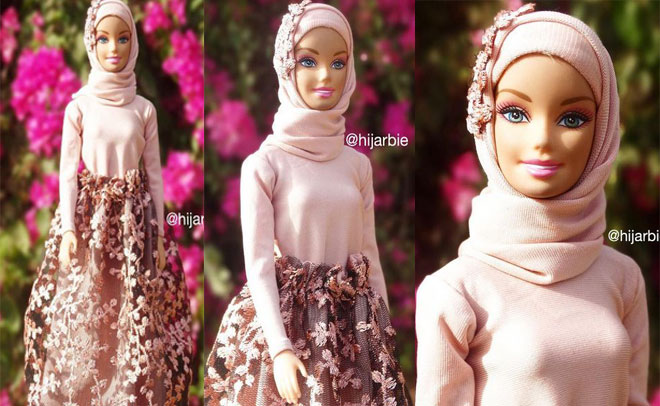 Since its conception in 1959, Barbie dolls have ruled little girl's heart. But Barbie has been far from being inspirational role model for children.
Her blonde hair, sparkling blue eyes, a weight-to-height ratio so small that if she were real she would walk on all fours.
The dolls hardly reflect reality - brown hair, freckles, acne and clothes that normal girls wear and even far from representing different ethnicity.
When did you ever see a curvy, tall Barbie doll wearing hijab?

Instagram/Hijarbie
So 24-year-old medical scientist Haneefah Adam came up with 'Hijarbie'.
Adam, who lives in Nigeria, uses her Instagram account Hijarbie to showcase her hijab fashion - Barbie-style doll wearing hijabs and abayas instead of princess gowns or hot pants.
She takes Barbie dolls and dresses them up in hijabs and abayas which she hand-stitches herself in mini size.

Instagram/Hijarbie
Haneefah told MIC that she came up with Hijarbie after seeing the success of the Barbie Style Instagram.
She said: "It got me thinking about how I'd actually like to see a doll dressed up like I would have – covered up.
"I was mulling about the idea for about three months while I was still studying for my master's degree in the UK.

Instagram/Hijarbie
"When I got back to Nigeria, I went to the mall, purchased a doll, dressed it up, documented it and here we are."
Right now, her 'Hijarbie' Instagram account has 51.9k followers.
Haneefah wants her work to inspire young Muslim women to feel more confident.

Instagram/Hijarbie
She told MIC: "I want them to be inspired – this is about having an alternative and creating an awareness of having toys that adopts your religion and culture and in your own likeness, which at the end of the day, leads to an improvement in self-esteem.
"It's important to create a sense of value in the Muslim child, especially the girl child."

Instagram/Hijarbie

Instagram/Hijarbie

Instagram/Hijarbie

Instagram/Hijarbie

Instagram/Hijarbie
Follow Emirates 24|7 on Google News.