Flight attendants reveal: Most annoying habits of passengers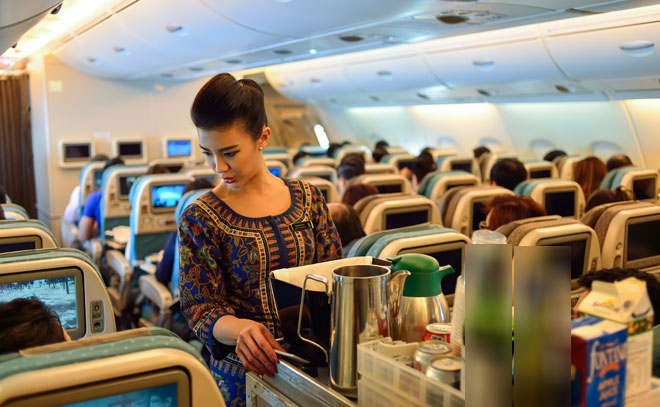 Up above the world so high, flight attendants are expected to be nothing but courteous and professional.

They are the ones who spend the most amount of time with passengers than any other airline employee, and tend to a wide variety of needs and requests.
They make sure the journey is trouble free that also includes tolerating all kinds of behaviour that gets under their skin.
So what passenger habits annoy flight attendants the most?
Being rude
In a thread on Quora, flight attendant Paula Mitchell rattled off a long list of annoyances, and the one that stands out the most is rudeness.
Lack of basic etiquettes annoy her the most, 'clicking fingers at me to get my attention' topped her list.
She is also fed up with passengers who orders instead of politely adding 'Please' or 'Thank you', or talk too loudly over the pre-flight safety demonstration.
Another thing of annoyance - 'ringing the call bell to ask for a glass of water even though you are sitting two rows behind the galley.'
Lame questions
Attendant Diana De Souza Leão says general questions that they have already been answered annoys him the most. Like asking what's in the menu.
This one in particular a peeve for Durand as well, especially in cabins where passengers are handed a physical menu.
In response to that question, she sarcastically wrote in the Quora thread: 'Well, it's on the menu I gave you 40 minutes ago. Along with our beverages list, by the way.'
My connecting flight
Of all the questions asked by travellers, this is one of the most common.
Diana De Souza Leão feels annoyed, 'when they ask me to predict the future for them: Will I make my connection?'
'First of all you have not even told me where you are going, secondly it was shown in the welcome video on which channel you can find ALL of the information you could possibly need for this flight and any future flights you would want information about.'
Flight attendant Julien Durand had this advice: 'Look at the information on the screen in front of you, very often you'll find the estimated time of arrival, and on some companies, info about your own connecting flight.'
Oversize bags
Anna Alapatt, a former crew member pointed out passengers bringing too much luggage on board and expecting a flight attendant to pick it up and make it fit is discourteous.
Why would you carry your baggage all the way from home to the airport and then complain it's too heavy to put up in the bin and then expect your flight attendant to do it?
And then there are passengers who refusal to put bags in the overhead bins, hogging the overhead bins with their own bags, showdowns when attendants insist you check them.
Irresponsible parents
Flight attendants are by no means supposed to take care of your children. It is not in the job description nor does every flight attendant even like children. Your children are your responsibility not a flight attendant's.
Paula Mitchell said she gets annoyed when kids 'run wild' up and down the aisles or are constantly 'getting under our feet'.
Some parents have even handed her a baby's dirty nappy or used sick bag.
Baby food on board?
Parents often have to carry more than other passengers – from a pram to baby clothes, to breast milk to bottled baby food.
Yet some seem to think they can rely on the airline to provide special food for their child.
Julien Durand said she gets annoyed when 'the mother of a toddler asks me if there is food for her baby on board. What kind of mother doesn't bring her baby's food?'
Where are the toilets?
This is where Durand seemed really annoyed.
Irony was dripping from her response, 'Right behind the door that has the word 'toilets' written on it in at least two languages, under the luminous sign that says 'toilets', where everyone seems to be waiting in line after the meal, usually at the back, in the middle or at the front of the cabin.'
Smelly feet
It seems flights are the perfect time to air these puppies out
Like fellow passengers, flight attendants also hate it when someone removes their shoes on a flight.
Mitchell said she gets annoyed when a passengers removes his or her shoes and socks, 'therefore, in some cases, creating a smelly cabin environment'.
She also hates it when passengers go into the lavatory without shoes or when they go into the toilet and 'treat it like a day spa'.
All Pics: Shutterstock
Follow Emirates 24|7 on Google News.