Insider tips and tricks: How to get airline upgrade without paying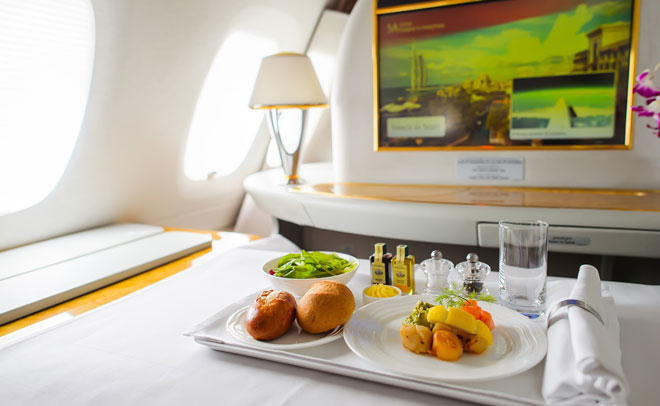 Getting an upgrade is the holy grail of air travel.
Premium seats are shockingly unaffordable. If you fancy a week in New York next month, travelling in first class with Emirates Airines, for example, you'll need to spend at least Dh42,000 or if you travel to Mumbai it will cost you minimum Dh5,000.
But then if you get an upgrade, there's nothing better than that.
While it is less frequent now, being promoted to first or business class is still possible.
Here are few inside tricks on how to get upgraded as discussed in Quora and expert guidance from TripAdvisor and Skyscanner
Just ask
One frequent flyer recommends something as simple as "If you are upgrading passengers on this flight, I would like to be considered." Inserting the word "please" won't hurt you either.
It's an obvious point but asking politely at the check-in desk is often enough.
Katherine Clark of TripAdvisor Flights: "If you don't ask you don't get and with more people checking in online there are less people asking the question, 'Is the flight full?' If they can't give you a free upgrade, they might give you a heavily reduced one.
Dress well
Learn how to dress, what to say and when to fly to win an upgrade.
While experts agree that looking like a Hollywood film star doesn't help as much as it used to, tracksuits and torn jeans certainly won't further your cause.
Leave the tracksuit or your Opera gown at home and dress as if you've just been browsing in the exec lounge.
Bob Atkinson, travel expert at TravelSupermarket.com advises sticking to the 'smart casual' code and that 'a cashmere shawl or linen jacket can make all the difference.'
Use your charm
Be nice and use your charm. Kindness pays, so pay it forward with interest and you could be in first class in the blink of a smile.
It goes without saying that the lucky few who have received an upgrade after requesting one were polite, and probably smartly dressed. They didn't demand one.
Having gained a business class upgrade with her boyfriend to South Africa, Recruitment Assistant Fiona Morrison advises 'looking good, wearing your Sunday best and smiling'.
Sacrifice
Volunteer to give up your seat if the flight is oversold. Tell the agent that if they don't need your seat but they do need somebody to upgrade, you'll be happy to volunteer for that. Small chance, but worth a try.
If they end up needing your seat for someone else, ask whether you can be upgraded on the next flight.
If you have been inconvenienced by the airline, don't hesitate to ask for an upgrade. Again, airlines don't generally upgrade people for no reason, but if they have caused you a problem, that may be reason enough.
Travel at quiet times
Frequent flyer Clare McMonagle says you get a better chance of upgrading to business class by 'booking a flight on bank holidays and at other times of the year when business users are less likely to fly as the seats tend not to be taken up'.
Be the victim
If you've got a faulty entertainment system, or a chair that won't recline, you've got good reason to complain, particularly if you're on a long-haul flight.
You may simply be moved to another economy class seat, but if none are free you could ask to be relocated.
It's not unusual to be upgraded if your seat or seat belt is broken. Obviously this is not a green light to start causing willful damage, but it's worth checking.
Be loyal
If you're not an elite frequent flier but still have some miles banked, you may be able to use them for an upgrade.
Join a frequent flyer club and start earning miles. When airlines are oversold they will look to upgrade their most loyal passengers first.
Be careful, though, as many airlines now ask not just for miles but also a cash co-pay. One example: On flights to Europe, American Airlines charges 25,000 miles, plus $350, for a one-way upgrade from discounted economy to business class. For most domestic upgrades, American wants 15,000 miles plus $75.
Recent research by Expedia found that airlines often sort out their upgrades the day before the flight, looking for regular fliers, businessmen or women and celebrities, who may fly with them again if given an upgrade.
Discount deals
Keep an eye on your email and sign up to airline groups and schemes. They often send out messages alerting members of upgrade availability.
Ask your travel agent. My own travel agent has a relationship with certain airlines that let her book her customers into preferred seats that are not released to everyone (usually toward the front of the plane, in exit rows and the like).
She can also see upgrade availability fairly quickly, and many agents can add comments to your reservation that increase your chances of being chosen for an upgrade. Ask about these the next time you talk to your travel agent.
Fly solo on your birthday
Don't fake the date, it's on your passport. As you flash flight attendants your passport they may take pity on you and give you the present you so long for.
Sometimes it pays to leave friends and family behind. Katherine Clark advises travelling by yourself. 'It's much easier to upgrade a single passenger up to business class than a family of four.'
Arrive early or late
The early bird catches the worm. Skyscanner's James Teideman has seen it pay to be prompt to check-in.
'If passengers need to be moved between cabins for operational reasons, the airline will probably know this several hours before the flight. So if you're among the first few passengers to check-in, you have a higher chance of being chosen.
Likewise, closer to the end of check-in, airlines might be faced with overbooking if more passengers have turned up than they were expecting.'
Follow Emirates 24|7 on Google News.